Samsung HMX-H106 HD camcorder with 64 GB test / review by Camcorder Info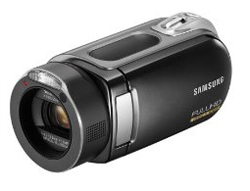 Samsung HMX-H106
Camcorder info has tested the Samsung HMX-H106 camcorder. This HD camcorder from Samsung has 64GB of internal memory and 10x optical zoom.
Some key features for the Samsung HMX-H106:
-64GB of internal memory
-10x optical zoom lens
-Optical image stabilization
-2.7″ touchscreen
-Full HD (1920 x 1080/60i or 30p)
Camcorder Info ends up giving the Samsung HMX-H106 a pretty good review as it produces videos with very sharp content. The 64GB of internal memory is also very nice to have, but it raises the price tag with some dollars. The Samsung has a few shortcomings like not the best touchscreen, cheap button design and few features compared to other camcorders on the marked, but this model is still one of the best mid-range camcorders out there right now.
Read the full review of the Samsung HMX-H106 camcorder here.