Epson WorkForce 1100 color inkjet wide format printer test / review by Printer Comparison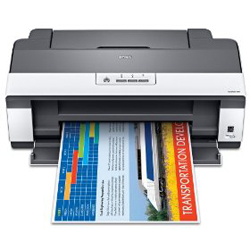 Epson WorkForce 1100
Printer Comparison has reviewed the Epson WorkForce 1100 color inkjet wide format printer. This Epson printer is able to produce wide format prints up to 13 x 19 inches in size.
Some key features for the Epson WorkForce 1100 printer:
-Prints up to 13 x 19 inches
-Print speeds up to 30 ppm in black and 17 ppm in color
-Print resolution up to 5760 x 1440 dpi
-Print capacity up to 100 sheets
Printer Comparison ends up giving the Epson WorkForce 1100 a good review as the printer is able to make prints of very good quality, it doesn't jam when you use different types of paper and makes large prints at low costs. The only downsides are that the printer might run out of ink while doing large jobs, no wireless connectivity and it doesn't hold that many sheets. Overall this Epson printer seems like a good choice if you are on a budget and are looking for a wide format printer.
Read the full review of the Epson WorkForce 1100 printer here.