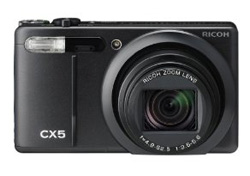 Ricoh CX5
There are an extreme amount of compact digital cameras out on the market. Many are similar to each other, but the
Ricoh CX5 is a bit different as it actually focuses on photography. Photography has now tested this 10 megapixel camera from Ricoh.
Some key features for the Ricoh CX5:
-10 megapixel back-illuminated image sensor
-10.7x optical zoom lens (28-300mm)
-Hybrid AF system
-3″ LCD screen (920K dots)
-Smooth Imaging Engine IV image processing engine
-720p HD video recording
Photography Blog ends up giving the CX5 a "Recommended" rating of 4 out of 5 possible stars. The camera gets a pretty good score on image quality, value for your money, design and features. Overall Ricoh has produced a good compact camera, but there are not many changes from the Ricoh CX4 so if if you own the CX4 is probably is not a good idea to upgrade. There is also a good deal of other good compact cameras from different brands so you should take a good look at the alternatives before you buy the CX5.
Read the full review of the Ricoh CX5 digital camera here.