Olympus FE-5020 test / review by Lets Go Digital – digital camera with 5x wide-angle zoom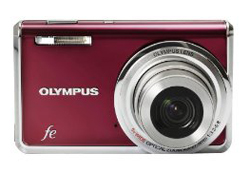 Olympus FE-5020
Lets Go Digital has tested the Olympus FE-5020 compact digital camera. This camera from Olympus features digital filters, 12 megapixels and 5x wide-angle optical zoom.
Some key features for the Olympus FE-5020:
-12 megapixel image sensor
-5x optical zoom lens
-2.7″ LCD screen
-Digital image stabilization
-Digital filters
Lets Go Digital ends up giving the Olympus FE-5020 a "Good" rating as the camera should fit casual photographers with a well-built digital camera. There are a few shortcomings like not so good image quality and quite a bit of ISO noise at higher ISO levels. You might want to check out other camera models on the marked before you decide on buying the FE-5020.
Read the full review of the Olympus FE-5020 digital camera here.