Olympus VR-310 budget travelzoom camera test / review by Photography Blog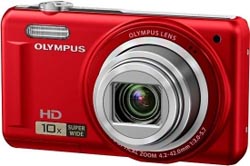 Olympus VR-310
Photography Blog has reviewed a cheap travelzoom camera from Olympus called Olympus VR-310. This Olympus camera has 14 megapixels and a useful 10x optical zoom lens starting at 24mm.
Some key features for the Olympus VR-310 camera:
-14 megapixel image sensor
-10x optical zoom lens (24-240mm)
-3″ LCD screen
-720p HD movie capture
-Dual image stabilization
-Magic Filters
Photography Blog ends up giving the VR-310 a pretty poor review with an "Average" rating and an overall score of 3 out of 5 possible stars. The digital camera scores highest on value for your money, while it scores a bit lower on image quality, features, design and ease of use. The price on this camera from Olympus is pretty low, but that does not help when the image quality is poor. It might be worth putting some extra money into getting a better camera.
Read the full review of the Olympus VR-310 budget travelzoom camera here.