Olympus M.ZUIKO Digital ED 12mm f/2 lens review / test by Photography Blog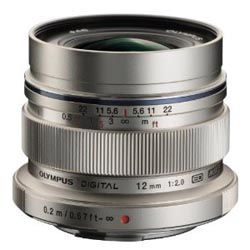 Olympus M.ZUIKO Digital ED 12mm f/2
Photography Blog has tested a new high grade lens from Olympus that they have made for the Micro Four Thirds system. The lens, called Olympus M.ZUIKO Digital ED 12mm f/2, and has a full metal body, built-in depth of field and distance indicators, in addition to enhanced multi-layer lens coating and very light weight.
Photography Blog ends up giving the Olympus lens a "Recommended" rating with an overall score of 4 out of 5 possible stars. The 12mm lens scores highest on image quality, features and design, a little lower on ease of use, while it scores lowest on value for your money. Olympus has created a great little lens that is able to photography excellent pictures, but the price tag might be a bit high for many photographers.
Read the full review of the Olympus M.ZUIKO Digital ED 12mm f/2 lens here.