Panasonic Lumix DMC-GX1 premium compact system camera test / review by Photography Blog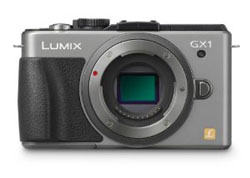 Panasonic Lumix DMC-GX1
Photography Blog has reviewed a new Micro Four Thirds camera from Panasonic called Panasonic Lumix DMC-GX1. This system camera seems to be a kind of successor to the popular GF1 model from Panasonic. Let us hear what the reviewer thinks about this digital camera.
Some key features for the Panasonic Lumix DMC-GX1 camera:
-16 megapixel image sensor
-3″ touchscreen
-ISO range from 160 to 12800
-Full HD movies at 1920 x 1080 at 60i (NTSC) / 50i (PAL) in AVCHD format
-4.2fps continuous shooting
-Weighs 318g
Photography Blog ends up giving the GX1 a "Highly Recommended" rating with an overall score of 4.5 stars out of 5 possible. The Panasonic camera scores highest on image quality where it gets a perfect score, a little lower on ease of use, design and features, while it scores lowest on value for your money. It seems like Panasonic has made another nice addition to the Micro Four Thirds line up, but it is a bit too expensive to be chosen as the best camera by Photography Blog.
Read the full review of the Panasonic Lumix DMC-GX1 premium compact system camera here.