Casio Exilim EX-Z25 test / review by Trusted Reviews – digital camera with 3x wide angle zoom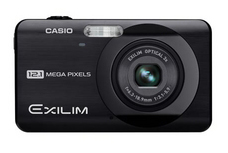 Casio Exilim EX-Z25
Trusted Reviews has tested the Casio Exilim EX-Z25 compact digital camera. This compact from Casio seems like pretty standard digital camera with 3x optical zoom and 12.1 megapixels, but the camera body is very small. Let us hear what the reviewer thinks about this camera.
Some key features for the Casio Exilim EX-Z25:
-12.1 megapixel image sensor
-3x optical zoom lens (35-105mm)
-2.7″ LCD screen
-Face detection
-Measures 89.7 x 51.7 x 19.4mm
-Weighs 116g
Trusted Reviews ends up giving the Casio Exilim EX-Z25 an overall rating of 8 out of 10 points. The Casio camera scores highest on build quality and value while scoring a little lower on features and image quality. The camera seems like it nice enough for a causal photographer that want a small and lightweight camera, but if you are looking for pictures of high quality you might want to look elsewhere.
Read the full review of the Casio Exilim EX-Z25 digital camera here.