Ricoh G700 rugged digital camera test / review by CNET UK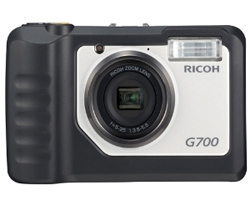 Ricoh G700
CNET UK has tested a rugged digital camera from Ricoh called Ricoh G700. The G700 has over 12 megapixels and is able to withstand drops from up to 2 meters and you can take pictures with it under water.
Some key features for the Ricoh G700:
-12.1 megapixel image sensor
-5x optical zoom lens (28-140mm)
-3″ LCD screen
-Withstand a drop of up to 2 meters
-Water-resistant to a depth of 5m
-Records 720p HD videos
CNET UK ends up giving the Ricoh camera a mediocre review with an overall score of 3 out of 5 possible stars. On the positive side the reviewer finds aspects such as that it is weather resistant, useful zoom range and ease to use, but there are some negative points to including high price tag, the image quality could be better and the camera is not for everyone. If you are often taking photos in ruff conditions this might be a camera for you, but you should take a look at other other rugged cameras on the market.
Read the full review of the Ricoh G700 rugged digital camera here.