Tokina AT-X 16-28mm F2.8 Pro FX zoom lens review / test by Photography Blog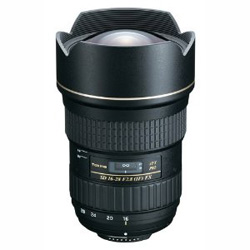 Tokina AT-X 16-28mm F2.8 Pro FX
The Tokina AT-X 16-28mm F2.8 Pro FX is a nice zoom lens with a fast and constant aperture at F2.8. This Tokina lens is designed for full frame DSLR camera from Canon and Nikon, like the Nikon D700 and Canon EOS 5D Mark II. The lens comes with a new silent motor and a new faster autofocus sensor. Let us hear what Photography Blog has to say about this professional lens from Tokina.
Photography Blog ends up giving the Tokina AT-X 16-28mm F2.8 Pro FX a "Recommended" rating with an overall score of 4 out of 5 possible stars. The lens scores highest on design and image quality, and a little lower on features, ease of use and value for your money. For such a wide angle lens it produces excellent pictures and the auto focus is good, but the Tokina lens is heavy and costly. It also lacks image stabilization which can be a negative point for some photographers.
Read the full review of the Tokina AT-X 16-28mm F2.8 Pro FX zoom lens here.