Panasonic announces Panasonic Lumix DMC-FS22 / FH7 digital camera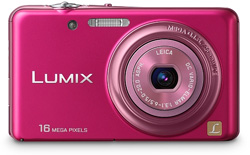 Panasonic Lumix DMC-FS22
In addition to announcing the Micro Four Thirds camera DMC-G3 Panasonic also announced a compact digital camera with 16 megapixels. The camera is called Panasonic Lumix DMC-FS22 (or FH7 in some markets) and comes with a big touchscreen and a Leica branded 28-112mm lens.
Some key features for the Panasonic Lumix DMC-FS22:
-16 megapixel image sensor
-4x optical zoom lens (28-112mm)
-3″ LCD screen with touchscreen abilities
-Able to record 720p HD videos
-84MB built it memory
Panasonic has not released any details what the price will be on the Panasonic Lumix DMC-FS22 / FH7 or when it will be available on the market.

Press release:
Panasonic's Newest Slim And Stylish Lumix Digital Camera Features An Easy-to-Use Touch-Screen
The Compact LUMIX FH7 Digital Camera Features Creative Modes, Enabled by a Touch-Screen, to Give Portraits a New Look With Makeup and Retouching
SECAUCUS, NJ (May 12, 2011) – Panasonic today announces the new 16.1-megapixel LUMIX DMC-FH7, which features an incredibly slim and stylish design, making this new digital camera easy to carry – and with intuitive touch-controls, it's also easy to use. While the LUMIX FH7 is a stylish standout, it does not compromise on performance, featuring a retractable high-quality 28mm wide-angle LEICA DC lens with an impressive 4x optical zoom and High Definition video capabilities that record in 1280 x 720p at a smooth 24 fps, producing clear and vivid images.
The LUMIX FH7 features a 3-inch Smart Touch Screen allowing users to enable Touch Auto Focus (AF), Touch Zoom, Touch Shutter and Intelligent Scene Selector simply by touching the screen. All menu setting options are now available with touch control. In playback mode users can drag the image across the screen with their finger to browse the collection of photos, as if it were a page in a book. Additionally, the LUMIX FH7 features three modes that let users get creative by manually (with the touch of a finger) editing their photos on the digital camera. These modes include:
*
Beauty Retouch – allows users to retouch faces
*
Esthetic – creates effects on faces such as clearing skin texture and whitening teeth
*
Makeup – gives color options such as foundation, eye-shadow or coloring for the lips and cheeks
"Panasonic continues to offer consumers choice in the digital camera they use and with LUMIX, we want to ensure there are stylish, compact options that still maintain Panasonic's high standards of image quality, both in still photos and HD videos," said David Briganti, Senior Product Manager, Imaging, Panasonic Consumer Electronics Company. "With the new FH7, we're confident that this small and attractive digital camera will produce photos and videos that users are proud to share, and with new seamless uploading features, they can do so easily to sites, such as Facebook and YouTube."
The Panasonic LUMIX FH7 features the LUMIX Image Uploader, which instantly share images via Facebook© and video via YouTube™ when the digital camera is connected to a computer or the SD Memory Card is inserted – and the easy on-screen instructions are followed.
Panasonic's popular iA mode, a suite of technologies that engage automatically – with no setting changes needed by the user – makes it easy for anyone to take beautiful photos. With a dedicated iA button for easy access, the following features can be quickly engaged:
*
MEGA OIS (Optical Image Stabilization) – Reduces blurry photos due to hand-shake
*
Intelligent ISO Control – Reduces blur when the subject is moving
*
Face Detection – Ensures registered faces are captured in focus with appropriate exposure and digitally corrects unwanted red eyes
*
Intelligent Scene Selector – Selects the best option from: Macro, Portrait, Scenery, Night Portrait, Night Scenery and Sunset
*
Intelligent Exposure – Optimizes the exposure for each part of an image, preventing blocked shadows and blown highlights and helps ensure that gradation and details are reproduced beautifully
The Panasonic LUMIX FH7 encompasses Panasonic's Venus Engine VI image processor, which helps to power Intelligent Resolution technology. With Intelligent Resolution technology, three areas – outlines, detailed texture areas and soft gradation – are automatically detected and the LUMIX FH7 performs optimum processing to each, resulting in naturally clear images. Furthermore, thanks to Intelligent Resolution technology, Panasonic's Intelligent Zoom extends the LUMIX FH7's zoom to a 5x equivalent. The multitasking Venus Engine VI also supports a super-fast response time. The shutter release time lag is incredibly quick, at approximately 0.006 second and its quick response makes it easier to capture sudden, spur-of-the-moment photo opportunities.
Other features of the Panasonic LUMIX FH7 include:
* Intelligent LCD detects the lighting conditions and controls the brightness level in 11 finely graduated steps, to display the most appropriate setting
* 84MB of built-in memory
* Newly-added Image Stamp mode enables users to decorate photos with 32 different stamps, for those wanting to personalize their images
The Panasonic LUMIX DMC-FH7 will be available in black. Pricing and availability will be announced 30 days prior to shipping date. For more information, please visit www.panasonic.com/lumix.
* Leica is a registered trademark of Leica Microsystems IR GmbH.
* The LEICA DC VARIO-ELMAR lenses are manufactured using measurement instruments and quality assurance systems that have been certified by Leica Camera AG based on the company's quality standards.
* Facebook and the Facebook logo are registered trademarks or trademarks of Facebook, Inc.
* YouTube is a trademark of Google Inc.
Design and specifications are subject to change without notice.
About Panasonic Consumer Electronics Company
Based in Secaucus, N.J., Panasonic Consumer Electronics Company, is a Division of Panasonic Corporation of North America, the principal North American subsidiary of Panasonic Corporation (NYSE: PC) and the hub of Panasonic's U.S. marketing, sales, service and R&D operations. Panasonic is pledged to practice prudent, sustainable use of the earth's natural resources and protect our environment through the company's Eco Ideas programs. Company information for journalists is available at www.panasonic.com/pressroom.