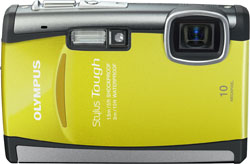 Olympus Stylus Tough-6000
Digital Camera Review has reviewed the rough Olympus Stylus Tough-6000 compact digital camera from Olympus. This waterproof camera is a bit cheaper than other waterproof models on the marked.
Some key features for the Olympus Stylus Tough-6000:
-10 megapixel sensor
-Waterproof down to 3 meter
-Freezeproof
-Can handle drops from 1.5 meter
-3.6x wide optical zoom (28-102mm)
Digital Camera Review ends up giving the Olympus Stylus Tough-6000 an ok review as it is indeed a very tough camera that is able to take pictures in rough conditions. But there are a few shortcomings like poor autofocus in dim light, noise at higher ISO levels and slow flash recycle time. Overall the Tough-6000 seems like a nice camera if you often need to use a camera in rough conditions.
Read the full review of the Olympus Stylus Tough-6000 camera here.