Olympus announces Stylus Tough-6000 digital camera – Waterproof to 3 meter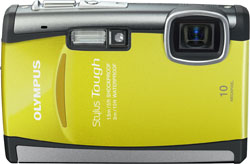 Olympus Stylus Tough-6000
Olympus has announced two new cameras in their Tough series. The first is the cheaper Olympus Stylus Tough-6000 that is waterproof down to 3 meter, freezeproof and can handle drops from 1.5 meter. Read about the big brother Stylus Tough-8000 here.
Some key features for the Olympus Stylus Tough-6000:
-10 megapixel sensor
-Waterproof down to 3 meter
-Freezeproof
-Can handle drops from 1.5 meter
-3.6x wide optical zoom (28-102mm)
The Olympus Stylus Tough-6000 will be available from January 2009 for about $299.99.

Press release:
Olympus Stylus Tough Series Cameras Dare The World To Bring It On!
Stability Meets Durability: Shakeproof Dual Image Stabilization Added to Shockproof, Waterproof and Freezeproof Design of STYLUS TOUGH-8000 and STYLUS TOUGH-6000 Cameras
CENTER VALLEY, Pa., January 7, 2009 – There's really only one word to describe the new shockproof, waterproof, freezeproof, crushproof and shakeproof cameras from Olympus: Tough! Built to withstand some of the harshest environments on earth, the Stylus Tough series builds on the impressive specifications of the renowned Stylus SW Series by adding Dual Image Stabilization. Now, when the STYLUS TOUGH-8000 and STYLUS TOUGH-6000 arrive at the windy mountain peak or dive into choppy waves, they stay steady and ready to capture blur-free images in virtually any condition.
"Olympus designed the new Stylus Tough series to go places other point-and-shoot cameras wouldn't dare to go, and by adding Dual Image Stabilization we ensure that adventurers will come home with crisp, clear images of their travels," said Nadine Clark, product manager, Olympus Imaging America Inc. "After all, when you make cameras that can be dropped, submerged and frozen you expect the terrain where you use them to get a little rocky along the way, and you want stability as well as durability."
The STYLUS TOUGH-8000, designed for active and adventurous people, features an impressive 12 million pixels of image resolution for poster-sized prints and can survive a 6.6-foot drop, venture 33 feet underwater, withstand 220 pounds of crushing pressure, and laugh at freezing temperatures. The 10-megapixel STYLUS TOUGH-6000 is made for life's everyday adventures – especially those with kids. From the kitchen to a waterslide park and the bunny slopes, the STYLUS TOUGH-6000 can take a drop from 5 feet, dive to 10 feet below the surface, and beat the freezing cold. Both Stylus Tough series cameras feature Tap Control to make it easy for skiers, divers and snowmen makers to control key settings without removing their gloves. It can also just be fun for those who enjoy new modern technology.
Winning the Battle of the Blur with Dual Image Stabilization
For the first time, Dual Image Stabilization will be offered on Olympus' cameras in the tough category. In the cold climates where the Olympus STYLUS TOUGH-8000 and STYLUS TOUGH-6000 thrive, you may shiver, but the cameras perform sure and steady even in shaking hands. Dual Image Stabilization combines two technologies – mechanical Sensor-Shift Image Stabilization and Digital Image Stabilization – to provide one powerful anti-blur solution for capturing great images whether the photographer or the subject is moving. Olympus' mechanical Sensor-Shift Image Stabilization keeps images sharp by adjusting the internal image sensor to compensate for camera movement, even in low-light conditions when shutter speeds are slower. Additionally, Digital Image Stabilization freezes the action with high ISO sensitivity and fast shutter speeds that prevent blurry images often caused by a moving subject.
Nothing Can Shock These Tough Cameras
Afraid the mountain wind might sweep a camera out of your hands and dash it on the rocks below? Never fear, the STYLUS TOUGH-6000, available in trendy yellow, white or blue tones, can withstand a 5-foot drop thanks to the Stylus Tough series' shock-absorbing technology, which minimizes the impact on the lens and circuitry. The STYLUS TOUGH-8000, available in stylish blue, black or silver, can withstand a 6.6-foot drop and features a crushproof body that can withstand up to 220 pounds of pressure.
Point-Dunk-and-Shoot Cameras
Stylus Tough series cameras perform as well underwater as they do on land because their lightweight, stainless steel and aluminum exteriors are matched with interior rubber gaskets and O-rings to seal out the elements. The STYLUS TOUGH-8000 can be fully submerged to capture beautiful images down to 33 feet (10 meters) underwater, and features a built-in manometer, making it ideal for more serious underwater adventurers who want to know the depth of where their images were taken. The STYLUS TOUGH-6000 can be submerged up to 10 feet underwater. The inclusion of four preset underwater scene modes makes these cameras perfect for taking photos while scuba diving, snorkeling or simply having worry-free fun in the pool. Additionally, movies can be captured on both cameras and colors are more vibrant using the underwater movie mode on the STYLUS TOUGH-8000. The cameras also feature a water-repellant lens coating to prevent water droplets from forming on the lens to get crystal-clear shots no matter how wet the shooting environment.
Freezeproof for Arctic Adventures
Whether you're in the arctic tundra or building a snowman in your backyard, the STYLUS TOUGH-8000 and STYLUS TOUGH-6000 cameras still perform when the temperature dips well below freezing (14 degrees Fahrenheit; -10 degrees Celsius). Stylus Tough series cameras continue to allow you to take great images in freezing situations where most traditional cameras would fail.
Olympus Recommended Button
The new "OR" button makes it easy to activate Olympus' unique features, including In-Camera Panorama, Shadow Adjustment and Perfect Shot Preview. Simply press the new OR button to easily access these commonly used features.
New Beauty Mode: Supermodels Watch out!
Taking beautiful portraits in the pool or on the slopes is easy with the new Beauty Mode. It enables you to soften shadows and smooth wrinkles or blemishes on your subject's face – all in the camera and as you capture the image! Additionally, subtle edits can be made post-capture using the Beauty Fix mode. Choose "Clear Skin" to smooth a person's complexion, "Dramatic Eye" to slightly emphasize the eyes, and "Sparkle Eye" to brighten and enhance the contrast of the iris and pupils. You can also apply all three edits at once. Have fun customizing your brilliant images without a PC and costly image editing software.
Hit Them with Your Best Shot: Tap Control
The Stylus Tough series cameras can be controlled with a simple tap on their top, back or sides, which is made possible thanks to their internal 3D accelerometer that detects the direction of the force on the camera's body. To turn on the flash or Shadow Adjustment Technology, all that is required is a couple of taps on the camera's sides and top. In adverse climates Tap Control ensures fast adjustment of settings even if you are fighting frostbite wearing large gloves that make pressing traditional buttons nearly impossible.
Wide-Angle Optical Zoom Captures it All
The STYLUS TOUGH-8000 and STYLUS TOUGH-6000 feature a 3.6x wide-angle optical zoom (28-102mm equivalent in 35mm photography, f3.5-5.0) so that even more of the subject makes it into each shot – perfect for underwater photography. The lens does not protrude from its body so it is further protected from harsh conditions.
Versatile Memory
All Olympus digital point-and-shoot cameras accept xD-Picture CardTM media. Starting with products available in August 2008, they also accept microSD memory cards to capture images. The new Stylus Tough cameras offer the flexibility to use either xD-Picture Card or microSD memory cards, which is just one more advantage of Olympus point-and-shoot cameras.
Advanced HyperCrystalTM III LCD
The next generation of Olympus' LCD technology – HyperCrystal III – displays twice as bright as previous versions so that you can see the details more clearly, even in direct sunlight. The new technology is offered on the STYLUS TOUGH-8000 and STYLUS TOUGH-6000 in a 2.7-inch LCD.
Can't Hide with Face Detection!
Portrait and group shots make family reunions live beyond the short event, and with Face Detection you'll capture even the shyest relatives. The STYLUS TOUGH-8000 detects up to three faces and the STYLUS TOUGH-6000 detects up to 16 faces within the frame and automatically focuses and optimizes exposure to capture sharp, brilliant portraits and group shots. Thanks to the unrivaled durability of the Stylus Tough series cameras, you'll capture amazing photos even if your next family reunion is at a National Park, a water park or a ski slope!
Intelligent Auto Thinks for You
Skating at night? You won't be the last one on the ice thanks to Intelligent Auto Mode. It automatically identifies what you are shooting (i.e. Portrait, Night + Portrait, Landscape, Macro and Sports) and adjusts the camera's settings to capture the best quality results. First-time users can jump into this quick and hassle-free feature that does the thinking for them and produces incredible images.
Broaden Your Horizons with In-Camera Panorama
The places you can take Stylus Tough series cameras – the Grand Canyon or the volcanic sand beaches of Hawaii – are locations where you want to capture as much of the scene as you can. In-Camera Panorama mode makes it possible by capturing three images and stitching them together to create one amazing panoramic picture. Simply press the shutter button and slowly pan across a panoramic scene. The second and third images will be captured automatically and stitched together with the first image – resulting in one seamless panorama-size picture. To create the ultimate panoramic picture, consumers can use the OLYMPUS Master Software™ 2 to stitch up to 10 images together.
Shadow Adjustment Technology
Shooting outdoors in bright daylight can be tricky because of the extreme contrast between dark shadowed areas and bright sunlit areas. While the human eye is capable of detecting the nuances between dark and light and all the details in between, image sensors traditionally have not been quite as sensitive. The Stylus Tough series addresses this challenge head-on with Shadow Adjustment Technology, which compensates for extreme contrast where the shadow areas are underexposed and lack visible detail. With this technology, users can preview and capture images with the same contrast as the naked eye.
Perfect Shot Preview
The Stylus Tough series features a Perfect Shot Preview mode that enables users to preview and select various photographic effects on a live, multi-window screen before snapping the shot. Perfect Shot Preview enables users to see precisely what the image will look like when adjustments are made, ensuring users are capturing the exact image they want. It is an ideal way for novice users to learn about the effects of different photography techniques, such as zoom, exposure compensation, white balance and metering.
Perfect Fix In-Camera Editing
The Stylus Tough series offers Red-Eye Fix and Shadow Adjustment Edit, in-camera editing features such as resizing, and saturation adjustments, enabling users to edit photos right in the camera. With the Perfect Fix function, multiple editing features can be applied at once.
LED Illuminator
An LED Illuminator on the Stylus Tough series cameras works like a mini-flashlight on the front of the camera to enhance focus and exposure for macro shooting – great for underwater close-ups where light is scarce. The LED also works in conjunction with Bright Capture to help illuminate your subject when taking low-light portraits.
TruePic™ III Image Processor
Olympus' enhanced TruePic III Image Processor produces crystal-clear photos using all the pixel information for each image to deliver superior picture quality with more accurate colors, true-to-life flesh tones and faster processing speeds. TruePic III captures sharp images at high ISO settings, minimizing image noise or grainy photos traditionally associated with shooting with high ISO.
Smart Charging for Active Lifestyles
For the first time, the new STYLUS TOUGH-8000 offers internal charging. Using an AC adapter, the camera plugs directly into a power outlet and charges the battery like a traditional mobile phone. It minimizes the need to open the battery compartment door, and helps to maintain the watertight gaskets that keep your camera tough.
Fashionable and Practical Accessories
Olympus offers a number of optional accessories, specifically designed for the Stylus Tough series cameras. For users looking to capture their underwater adventures deeper than 33 feet (10 meters), Olympus offers the PT-045 underwater housing for the STYLUS TOUGH-8000, which enables users to take pictures as deep as 130 feet (40 meters). A highly visible floating wrist strap frees users' hands when swimming or chasing the next big wave. Stylish silicone skins protect the camera from scratches.
Additionally, new carabineer straps available in blue and black attach directly to the camera and can be hooked to a bag, swimming suit or hiking shorts. Durable, sporty neoprene cases are also perfect for active or outdoor expeditions. Olympus Stylus Tough series cameras continue to make smooth transitions from outdoor adventures to cocktail parties. Rinse the camera and place it in an Olympus premium case for added sophistication. The premium cases are available in a variety of colors, including red, black and brown leather as well as various patterns.
OLYMPUS Master 2 Software
OLYMPUS Master 2 Software provides the ultimate in digital imaging management. An intuitive user interface makes downloading to your computer quick and simple, and images are easily organized by folders or albums and searchable by date in Calendar view. A direct link makes uploading your images and videos to YouTube™ easier than ever. Additionally, with one-click editing tools, such as red-eye removal, images can be touched up before printing or emailing. Online support, templates, firmware upgrades and other user services are just a mouse-click away. Use the optional muvee™ Theater Pack to create professional quality slide shows and DVDs from your pictures using any of several built-in templates. Additionally, create scrapbooks, greeting cards and other fun prints using the optional ArcSoft® Print Creations plug-in.
Availability
The STYLUS TOUGH-8000 will be available in February 2009, and the STYLUS TOUGH-6000 will be available in January 2009. They will include: a wrist strap, camera WIN/Mac USB cable, audio/video cable, LI-50B Li-Ion rechargeable battery, F-1AC charger for the STYLUS TOUGH-8000 and the LI-50C charger for the STYUS TOUGH-6000, MASD-1 (microSD Adapter), manual, warranty card and OLYMPUS Master 2 software (CD-ROM).
U.S. Pricing
STYLUS TOUGH-8000 Estimated Street Price: $399.99 (U.S.)
STYLUS TOUGH-6000 Estimated Street Price: $299.99 (U.S.)
Comments