Sony HDR-CX500V high-end HD camcorder review / test by Camcorder Info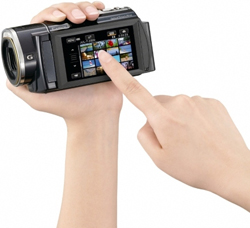 Sony HDR-CX500V
Camcorder Info has reviewed the Sony HDR-CX500V high-end HD camcorder. This Sony camcorder has 32 GB of built-in memory and is able to record videos at 1920×1080 high definition.
Some key features for the Sony HDR-CX500V:
-Full 1920×1080 high definition video
-12 megapixel still photos
-60p output
-Optical SteadyShot with Active Mode
-Built-in GPS antenna
-32GB of internal flash memory
Camcorder Info ends up giving the Sony HDR-CX500V a good review, but the camcorder has some shortcomings. The HDR-CX500V is able to take good videos in bright and low light, but the reviewer think it lacks some feature when you consider the high price. The reviewer was not a big fan of the touch screen and would prefer the controls that you get on other Sony models.
Read the full review of the Sony HDR-CX500V camcorder here.