Kodak ESP 5250 Wireless All-in-One Inkjet printer review / test by Trusted Reviews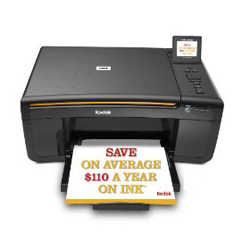 Kodak ESP 5250
Trusted Reviews has tested the Kodak ESP 5250 Wireless All-in-One Inkjet printer. This Kodak printer is very similar to the ESP 3250, but adds wireless connection.
Some key features for the Kodak ESP 5250:
-Wireless connection
-Print speeds up to 30 ppm in black and 29 ppm in color
-Photo print speeds: 4″ x 6″ prints in approximately 29 seconds
-Resolution: 1200 ppi
-Built-in memory card reader
Trusted Reviews ends up giving the Kodak ESP 5250 an overall score of 7 out of 10 points. The printer scores highest on print speed and print quality, but scores pretty low on value for your money as there aren't much to gain from the ESP 5250 compared to the 3250 model.
Read the full review of the Kodak ESP 5250 printer here.