Sony announces MHS-CM1 and MHS-PM1 Webbie HD – Upload video and photos to the web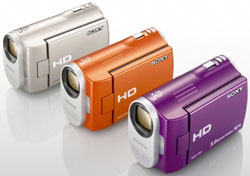 Sony MHS-CM1 digital camcorder
Sony announced two new HD camcorders called MHS-CM1 and MHS-PM1 Webbie HD. These camcorders can capture 1440×1080/30p videos and 5-megapixel still photos. The Webbie HD camcorders are designed for a younger audience that often upload videos and photos to Youtube and other social networking sites.
The Sony MHS-CM1 camcorder is available now for about $200 and the Sony MHS-PM1 model will be available in April 2009 for about $170.

Press release:
Share Fun Moments Online With Sony "Webbie HD" Cameras
Two Stylish Devices Provide Quick Video and Photo Uploads to the Web
LAS VEGAS (CES BOOTH #14200), Jan. 7, 2009 – Social networking is all the rage with Sony's new stylish cameras that make it easy to capture and upload MP4 video and still photos directly to the Web.
The MHS-CM1 and MHS-PM1 Webbie HD™ cameras capture daily events in high definition video (1440×1080/30p) and 5-megapixel still photos. Embedded software makes it possible to quickly upload content online in a few simple clicks. Two portable designs in three stylish colors—eggplant, orange and silver—reflect your personal style while capturing every wish-you-were-here moment.
"Webbie HD cameras are perfect for youth culture, who love to share moments on social networks as they happen," said Kelly Davis, director of camcorder marketing at Sony Electronics. "It's exciting to see these new customers embracing video to share their experiences and we've expanded our camcorder line to meet their needs."
Sony MHS-CM1 digital camcorder. Photo provided by Sony Electronics. Click for a bigger picture!
Sony MHS-CM1 digital camcorder.
Photo provided by Sony Electronics.
The MHS-CM1 camera sports a slim horizontal design that fits naturally in your palm with a large 2.5-inch (measured diagonally) LCD screen that swivels up to 270 degrees. It also has 5X optical zoom to snap a detailed close-up of your subject.
The four-ounce MHS-PM1 camera is lightweight and can be taken virtually everywhere—just stash the vertical chassis in a pocket or purse to catch that once-in-a-lifetime photo opportunity. A rotating swivel lens with 4X digital zoom flips over so you can see yourself while shooting video and taking photos.
By connecting the camera to your computer via the supplied USB cable, the embedded PMB Portable software quickly transfers content to video and photo sharing websites. It includes direct upload to Shutterfly™ and Picasa™ Web Albums photo sharing sites, YouTube™ and Dailymotion™ video sharing sites and Photobucket™ video and photo sharing site. You can also simply drag and drop video files from the camera to your personal computer folders.
Five scene selection modes—such as low light, sports and landscape— help you capture the best picture possible in any situation. Both cameras record directly to Memory Stick PRO Duo™ media (sold separately).
The MHS-CM1 camera is available today for about $200 and the MHS-PM1 model will be available in April for about $170. The Webbie HD cameras will be sold at Sony Style® retail stores, online at www.sonystyle.com/webbiehd and through authorized dealers nationwide.