DIWA Labs tests Canon EOS 1000D budget DSLR camera with Canon EF-S 18-55mm f/3.5-5.6 IS lens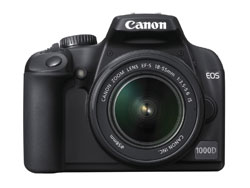 Canon EOS 1000D DSLR camera
DIWA Labs has tested the Canon EOS 1000D DSLR camera with the Canon EF-S 18-55mm f/3.5-5.6 IS lens. This camera is cheaper DSLR from Canon for photographers on a budget or people that does not need all the functions you get from more expensive cameras.
Some key features for the Canon EOS 1000D:
-10.1 megapixel CMOS sensor
-7-point wide area auto focus system
-2.5" LCD screen
-Up to 3 frames per second
-Compact and light DSLR body
The test results from DIWA Labs of the Canon EOS 1000D shows us that the camera is pretty good, but not at the same level as the more expensive Canon EOS 450D.
Read all the tests of the Canon EOS 1000D budget DSLR camera with Canon EF-S 18-55mm f/3.5-5.6 IS lens here.
The tests done by DIWA Labs are very technical so you need to read their test guide to understand the test results.