Sony 24-70mm f/2.8 Carl Zeiss Vario Sonnar T Zoom SAL-2470Z lens review by PopPhoto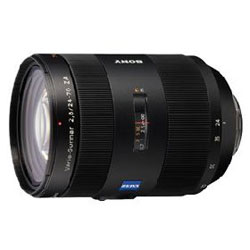 Sony 24-70mm f/2.8
PopPhoto.com has tested the Sony 24 -70mm f/2.8 Carl Zeiss Vario Sonnar T Zoom (SAL-2470Z) lens on a Sony A700 DSLR body. With a price of $1,750 this standard zoom lens got pro-quality Carl Zeiss T coated optics.
PopPhoto ends up giving the Sony lens a very good rating as it able to produce excellent pictures and very good build quality.
PopPhoto will redo the tests when Sony releases a full frame body to check for distortion and light falloff.
Read the full review of the Sony 24 -70mm f/2.8 lens here.