DIWA Labs tests Panasonic Lumix DMC-TZ5 digital camera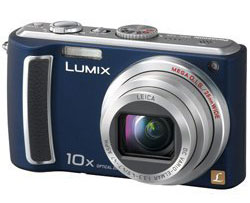 Panasonic Lumix DMC-TZ5
DIWA Labs has tested Panasonic's 10x wide angle zoom digital camera, the Lumix DMC-TZ5.
Some key features for the Lumix DMC-TZ5:
-10x optical zoom (28-280mm equivalent)
-9.1 megapixels
-Image stabilization
-720p HD video capture
-3.0″ LCD screen
DIWA Labs says that the lens performance is excellent, but there is some image noise at high ISO due to the 9.1 megapixels crammed into a small sensor. Overall this seems like an excellent compact camera when it comes to image quality.
Check out the complete tests of the Panasonic Lumix DMC-TZ5 here.
The tests done by DIWA Labs are very technical so you need to read their test guide to understand the test results.