Samsung TL500 / Samsung EX1 test / review by CNET UK – compact with f/1.8 lens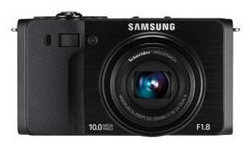 Samsung TL500 / Samsung EX1
CNET UK has tested a new high end compact digital camera from Samsung. The Samsung camera is called Samsung TL500 (or Samsung EX1 in Europe). The most interesting part of this compact is the bright 3x optical zoom lens that is pretty wide and starts at f/1.8.
Some key features for the Samsung TL500 / Samsung EX1:
-10 megapixel image sensor
-3.0″ multi-angle AMOLED display
-3x wide angle optical zoom lens (24-72mm, f/1.8-2.4)
-RAW capture
-VGA video recording in H.264 format
CNET UK ends up giving the Samsung TL500 / Samsung EX1 a good review with an overall score of 3.5 stars out of 5 possible. On the positive side the reviewer finds the build quality and finish to be very good. The big swiveling AMOLED display is also great and so is all the control you get over your photography with this camera. On the negative side we find aspects such as some awkward controls and maybe it is better to buy small Micro Four Thirds cameras like Olympus EPL-1 or Panasonic GF1. The Samsung camera is a good camera, no doubt about that.
Read the full review of the Samsung TL500 / Samsung EX1 digital camera here.