Epson PictureMate Show printer test / review by Printer Comparison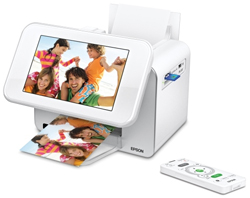 Epson PictureMate Show
Epson PictureMate Show is a photo printer from Epson that has a large display that can be used as a photo frame. Seems like a pretty good idea, but let us hear what the reviewer at Printer Comparison thinks about this Epson printer that is supposed to be able to print photos in 37 seconds.
Some key features for the Epson PictureMate Show:
-4" x 6" photo prints
-16:9 tilt digital photo display with 800×480-pixel WVGA resolution
-Print photos in 37 seconds
-270 MB internal memory
-Supports popular memory cards
-Supports USB thumb drives, PictBridge devices
Printer Comparison ends up giving the Epson PictureMate Show an overall score of 4 out of 5 possible stars. On the positive side we find the printer to make photo prints of excellent quality, the photo frame is useful and the print speeds are good. On the negative side there are aspects such as high price tag and you can not really print many different media types with this printer. The Epson printer scores highest on performance, print speeds, features, print quality and ease of use while it scores a bit lower on operational costs and service. Overall the PictureMate Show seems like a good choice if you are interested in a photo printer that also let you show off your pictures in a photo frame.
Read the full review of the Epson PictureMate Show photo printer here.