Samsung ST80 digital camera with Wi-Fi test / review by About.com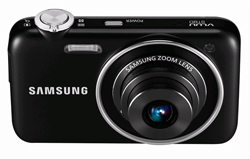 Samsung ST80
About.com has reviewed a digital camera from Samsung. The Samsung camera is called Samsung ST80 and some interesting features like wireless connectivity and a sensor with over 14 megapixels.
Some key features for the Samsung ST80:
-14.2 megapixel image sensor
-3x optical zoom lens (35-105mm)
-3″ LCD screen with touchscreen abilities
-Wireless connectivity
-HD movie mode
-Uses microSD memory cards
About.com ends up giving the Samsung ST80 an overall score of 3 out of 5 possible stars. On the positive side we find aspects such as touchscreen on a budget camera (usually found on more expensive models), good camera performance when photographing outdoors and thin size. On the negative side the reviewer finds a few points like not much of a zoom range and lens moves slowly, poor indoor photography, the touchscreen can be hard to use and you have to charge the batteries within the camera.
Read the full review of the Samsung ST80 digital camera with Wi-Fi here.