Nikon D3100 DSLR camera test / review by Photography Blog – entry level DSLR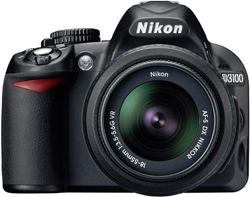 Nikon D3100
The latest entry level DSLR camera from Nikon is called Nikon D3100. This Nikon DSLR has over 14 megapixels and the ability to autofocus while recording HD movies. Let us hear what Photography Blog thinks about the Nikon D3100.
Some key features for the Nikon D3100:
-14.2 megapixel image sensor
-3″ LCD screen
-Full HD video recording with autofocus
-11-point autofocus module
-Sensor dust buster
-ISO sensitivity 100 to 3200
Photography Blog ends up giving the Nikon D3100 a "Highly Recommended" rating with an overall score of 4.5 stars out of 5 possible. The Nikon scores highest on image quality and ease of use, a little lower on value for your money and features while it scores lowest on design. The D3100 seems like an excellent entry level DSLR especially when you look at the image quality. If image quality is your most important aspect and you are on a budget this DSLR might be your choice.
Read the full review of the Nikon D3100 DSLR camera here.