Rollei announces Rollei Powerflex 440 and 450 digital cameras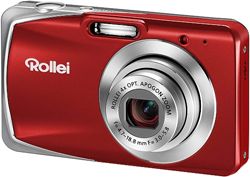 Rollei Powerflex 440
Rollei is not a brand that get a lot of press, but now they have launced two new compact digital cameras. The cameras are called Rollei Powerflex 440 and Rollei Powerflex 450.
Some key features for Rollei Powerflex 440 / 450:
-14 megapixel image sensor
-720p HD video capture
-5x (26-130mm) optical zoom lens (Powerflex 450)
-Optical image stabilisation (Powerflex 450)
-Close focus point of 2cm (Powerflex 450)
-Automatic panorama stitching (Powerflex 450)
-4x (26-104mm) optical zoom lens (Powerflex 440)
Both cameras will be available on the market in January 2011 and cost about €99.95 for the 450 and €79.95 for the 440.

Press release:
New digicam product range: Rollei Powerflex
Hamburg, 23 November 2010
Rollei is presenting the first two models in its new Powerflex product range just in time for the start of the New Year: the Powerflex 440 and the Powerflex 450 for demanding and cost-conscious photography newcomers.
The name "Powerflex" is most definitely fitting, above all due to the outstanding performance in all areas. Technical highlights and a sophisticated design have been combined perfectly – providing great flexibility when taking photographs and shooting videos in HD quality (1280 x 720p). Both cameras stand out, thanks to 14 million pixels for excellent picture quality and a 26-mm, super wide-angle lens, which provides great results no matter what you want to capture – overviews, details, interior scenes or landscapes.
The Powerflex 450 is equipped with a high quality 5x optical Apogon zoom and a focal length of between 4.7 mm and 23.5 mm, which corresponds with 26 mm to 130 mm in small picture format. Landscape and group photos can therefore be captured perfectly. In addition to this, the optical image stabiliser compensates for any shaking and enables super sharp photos to be taken, even with slower shutter speeds. Thanks to a macro range of 2 – 60 cm, the Powerflex is also a real "zoom-in" expert: close-up objects can be displayed in their original size on the image sensor, providing the viewer with a whole new perspective.
Thanks to the manually adjustable white balance, the light can be adjusted optimally for each motif. If the Panorama Capture function is selected, the camera joins multiple individual pictures into a panorama picture automatically. Photos are stored in the JPG format with a maximum resolution of 4288×3216 pixels, and razor sharp HD videos with up to 30 images per second are saved in the Motion-JPG format, thus ensuring lively videos. A USB 2.0 interface and a 2-in-1 AV-output port are also provided, which means both photos as well as videos can be viewed simply and quickly on a PC or TV screen. Complicated "picture shows" are thus a thing of the past. Thanks to a high ISO value of 3200, the devices can even be used in dark rooms, if a fast shutter speed (2-1/2000 seconds) is chosen.
Despite their compact designs, both Powerflex models include a large 2.7´LCD display with razor sharp quality at 230.000 pixels. The elegant design is rounded off with an exclusive metal finish on the front of the cameras.
The Powerflex 450's little sister, the Powerflex 440, comes with a 4x optical zoom that allows it to close in on distant objects. The focal length is 4.7 mm to 18,8 mm, which corresponds with 26 mm to 104 mm in small picture format.
Homemade high definition videos with a resolution of 1280x720p can be uploaded directly to the Internet with the YouTube-ready function, and 25 easy-to-use motif programmes ensure the right photo settings can always be found. The digital image stabiliser provides practical support for inexperienced photographers, especially for snapshot motifs, and the high-speed serial picture function guarantees a lot of photo fun: 30 images per second document each movement in flip-book style.
Both of the new Powerflex cameras include a wide range of handy features, such as face and smile recognition and red eye reduction. The Lithium-Ion batteries are recharged via USB. Both cameras can be connected to a PC quickly and simply using the USB interface, thus enabling the latest pictures to be presented in a flash. Photos are stored on a 32GB SD/SDHC card.
The cameras will be available in stores from January 2011. The Powerflex 450 will be available in black, pink and silver for 99.95 Euros (recommended retail price); the Powerflex 440 will cost 79.95 Euros (recommended retail price) and will come in the colours black, pink, red and silver.
The next model in this product range, the Powerflex 470, should be available in April 2011. Thanks to highlights such as a 7x optical zoom, HD video resolution, optical image stabiliser and a 3-inch display, photo and video enjoyment are guaranteed.