Casio Exilim EX-S200 image-stabilized camera test / review by About.com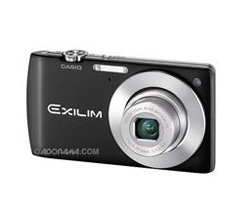 Casio Exilim EX-S200
Casio Exilim EX-S200 is a new image-stabilized camera from Casio. The digital camera features over 14 megapixels and 4x stabilized zoom lens in addition to being able to shoot 10 frames per second. Let us hear what About.com thinks about this Casio camera.
Some key features for the Casio Exilim EX-S200:
-14.1 megapixel image sensor
-4x optical zoom lens (27-108mm)
-Image stabilization
-2.7″ LCD screen
-Shoot up to 10 frames per second
-ISO sensitivity 50 to 3200
-Records 720p HD videos
About.com ends up giving the Casio Exilim EX-S200 a mediocre review with an overall score of 3 out of 5 possible stars. There are some positive points with the S200 including good design, well made LCD screen, performs good in low light with flash, fun art effects and the lens starts pretty wide at 27mm. On the negative side we find aspects such as bad shutter lag and shot delays, inconsistent performance outdoors and slow autofocus. Overall the S200 has some good points, but there are better compacts out there from other brands.
Read the full review of the Casio Exilim EX-S200 image-stabilized camera here.