Ricoh releases new G600 – Water and dust resistant compact digital camera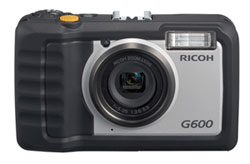 Ricoh G600
Today Ricoh released the new G600 compact camera that is water and dust resistant with an original looking design. Good to see that some camera makers are innovative with their new cameras instead of churning out the same old.
Some key features for the Ricoh G600 camera:
-10 megapixel sensor
-Wide angle 5x optical zoom (28-140mm equivalent) with 1cm closest focusing distance
-2.7″ LCD screen
-ISO sensitivity up to 3200
-Flash range of 10 meter
-Compact body size of 116.5 mm (W) × 68.0 mm (H) × 32.0 mm (D). Light weight of 260 g



Press release:
A compact, lightweight, water and dust-resistant, wide-angle, 5x zoom digital camera featuring enhanced shock resistance for outdoor use.
April 22, 2008, Tokyo – Ricoh Co., Ltd. (president and CEO: Shiro Kondo) has launched the G600, a new water and dust-resistant digital camera which will now be available along with the popular Caplio 500G Wide (launched in May 2006).
The G600 is smaller and lighter yet it still passes Ricoh's shock resistance test for a 1.5 m fall, a test that conforms to US Department of Defense standards. In addition to the 5x optical wide-angle zoom lens (equivalent to 28-140 mm for a 35 mm camera), the G600 continues to provide the same strong set of features as previous models, such as a 1 cm macro function and a flash range of 10 m. It is perfect for customers who want to take pictures in a variety of outdoor activities, such as marine sports, mountain climbing, and fishing.
Main features of the new Ricoh G600
1. Superior water and dust resistance plus even greater shock resistance make the G600 ideal for hard outdoor use.
• A shock resistant structure and stronger camera cone create a robust body able to withstand falls from 1.5 m onto 26 surfaces, in compliance with US Department of Defense "MIL Standard 810F" (previous models withstood 1.0 m). The G600 is able to cope with rough handling outdoors.
• The G600 boasts the same impressive water resistance as its predecessor's, surpassing JIS protection grade 7 performance. Besides taking pictures in the rain, it can even take pictures underwater at depths of up to about 1 m.
• Dust resistance satisfies JIS protection grade 6. Pictures can be taken in environments, such as the seashore, where there are high concentrations of sand or dust.
• The well thought out design and positioning of the large buttons make operation easy even with gloves on, such as while skiing.
2. Powerful flash with effective range of up to 10m and ISO3200 sensitivity for low-light photography.
• The flash has an effective range of up to 10 m for wide-angle and 6.5 m for telephoto.
• The new ISO 3200 capability expands the range of scenes that can be photographed (previous model's maximum sensitivity was ISO 1600).
• There is also an accessory shoe where an external flash can be attached.
3. Large 2.7-inch picture display.
• A large, high-definition 2.7-inch picture display is included. This enables accurate photography by making the picture display easier to see outdoors.
• A light sensor has been installed so that picture display brightness can be automatically adjusted based on ambient light level.
4. Compact and lightweight body that can be carried in a breast pocket.
• Compact body size of 116.5 mm (W) × 68.0 mm (H) × 32.0 mm (D). Light weight of 260 g (Previous model dimensions 133.05 mm (W) × 78.5 mm (H) × 74.0 mm (D); weight approx. 400 g.
• The flat design uses a non-protruding inner-zoom lens so that the lens does not extend out from the body regardless of whether the power is on or off.
• A neck strap attachment to the camera body means that as well as horizontal suspension, vertical suspension is now possible, making it easy to store the camera in a shirt or jacket breast pocket while the strap is still around your neck.
5. A 28-140 mm wide-zoom lens on a water and dust-resistant digital camera.
• The wide-zoom lens, equivalent to 28-140 mm, has been popular on other models.
• It can cover the whole of a large building and frame group pictures well in confined areas, and the 5x optical zoom can reach subjects it is not possible to shoot from close by.
• For even wider shots, there is an optional wide conversion lens equivalent to 22 mm.
• Size 37 mm filters can also be attached.
6. Popular features from other models have been incorporated into the G600.
• The large-capacity lithium ion battery provided with the camera gives long battery life for approximately 360 shots (CIPA standard). If the battery runs out, readily available AAA size batteries can be used instead. An optional AC adapter can be used indoors, so three different power sources are available.
• Macro mode gets as close as 1cm from the subject.
• When the camera is connected to a personal computer via a USB cable, it is recognized as an external storage device, so images in the camera can be transferred to the computer without using special software. Full, automatic transfer is also available with the special software.
• The high-quality CCD has an effective 10 million pixels.
• Skew correction mode can modify photographs taken at an angle so that they look as if they were shot from the front. This is a powerful tool for various situations, such as images shot for message boards and display panels.
• The G600 is compliant with the PictBridge standard that allows direct connection to a printer without routing through a personal computer. More diverse printing is possible, such as printing on forms registered in the printer, when connected to Ricoh's high-speed colour laser printers and MFP*.
* For further details: Please contact your local Ricoh dealer.
• An edit check function detects for image data tampering. This increases the reliability of the data when digital photographic images are submitted as corroborative evidence.
Accessories included:
Rechargeable Battery DB-60 / Battery Charger BJ-6 / USB Cable / Neck strap
Available: May 2008 at £ 349,99 inc vat.
Ricoh G600 – Major Specifications:
No. of Effective Pixels (Camera):
Approx. 10 million pixels
CCD:
1/2.3" CCD (total 10.3 million pixels)
Lens:
Focal length: 5.0 mm to 25 mm (equivalent to 28 mm to 140 mm on a 35 mm camera)
F-aperture: F3.5 (wide angle) to F5.5 (telephoto)
Shooting Distance Range: Normal shooting: Approx. 30 cm to infinity (wide-angle) or Approx. 50 cm to
infinity (telephoto) (from the front of the camera)
Macro shooting: Approx. 1 cm to infinity (wide-angle) or approx. 15 cm to infinity (telephoto) (from the
front of the camera) / Lens construction: 11 elements in 9 groups plus 1 prism
Zoom Magnification:
Optical: 5.0x (focal length equivalent to 28 mm to 140 mm on a 35 mm camera), Digital: 4.0x, up to 20.0x (560 mm equivalent) in combination with optical zoom Auto Resize: 5.7x*1, up to 28.5x*1 (798 mm equivalent) in combination with optical zoom
Focus Modes:
Multi AF (CCD method) / Spot AF (CCD method) / Manual Focus / Snap / ∞ (with focus lock and AF aux. light)
Image Stabilizer:
Digital image stabilizer
Shutter Speed:*2
Still image: 8, 4, 2, 1 to 1/1500 seconds / Movie: 1/30 to 1/10000 seconds
Exposure Control:
Exposure Metering Mode: Multi Light Metering (256 segments) / Centre-weighted Light Metering / Spot Metering (TTL-CCD metering and AE lock possible) / Exposure Mode: Program AE Exposure Compansation: Manual exposure compensation (+2.0 to -2.0 EV in 1/3 EV Steps), Auto bracket function (-0.5 EV, ±0, +0.5 EV)
ISO Sensitivity (Standard Output Sensitivity):
AUTO / ISO64 / ISO100 / ISO200 / ISO400 / ISO800 / ISO1600 / ISO3200
White Balance Mode:
AUTO / Outdoors / cloudy / incandescent lamp / incandescent lamp 2 / fluorescent lamp / manual settings / WB-Bkt function
Flash:
Flash mode: AUTO (fires automatically in low-light conditions and when the subject is backlit) / Red-Eye Flash / Flash ON / FLASH ON (10 m) / Flash Synchro / Flash OFF Build-in Flashrange: Approx. 20 cm to 10.0 m (wide-angle), approx. 40 cm to 6.2 m (telephoto) (ISO Auto, from the front of the camera)
Monitor:
2.7" Transparent amorphous silicon TFT LCD, approx. 230,000 pixels
Shooting Mode:
Auto shooting mode / Scene mode (High Sensitivity / Firefighting /Skew Correction / Text / Zoom-Macro / Movie) / My Settings / CALS
Picture Quality Mode:*3
F (Fine) / N (Normal)
No. of Pixel recorded:
Still image: [4:3] 3648×2736, 3264×2448, 2592×1944, 2048×1536, 1600×1200, 1280×960, 640×480
[3:2] 3648×2432 Movie: 640×480, 320×240 / Text: 3648×2736, 2048×1536
Recording Media:
SD memory card (3.3V: 32, 64, 128, 256, 512 MB, 1GB, 2GB), SDHC memory card (4GB, 8GB), Multi-Media card, Internal memory (approx. 52 MB)
Storage Capacity (Number of Pictures) (internal approx. 52 MB):*4
Still image: 3648×2736 (F: 13, N: 23) / 3648×2432 (F: 15) / 3264×2448 (N: 28) 2592×1944 (N: 45) / 2048×1536 (N: 65) / 1600×1200 (N: 83), 1280×960 (F: 66, N: 123) / 640×480 (N: 416)
Movie:*5
640×480: (21 sec.), 320×240: (1 min. 6 sec.)
Recording File Format:
Still Image: JPEG (Exif ver. 2.21)*6 Text: JPEG (Exif ver. 2.21)*6 Movie: AVI (Open DML Motion JPEG Format compliant)
Other Major Shooting Functions:
Multi-shot, Self-Timer (operation time: approx. 10 sec. / 2 sec.), Interval Timer (Shooting interval: 5 sec. – 3 hours (5 sec. steps)*7, Histogram, Grid Guide, Enlarge Photo Icon
Other Major Playback Functions:
Grid View, Enlarged Display (maximum 16x), Resize, Correct contrast
External Interface:
USB 2.0 mini-B, High-Speed USB, Mass storage compatible*8
Power Supply:
Rechargeable Battery: DB-60 1x, AC adapter (AC-4c optional), AAA Alkaline Battery x 2, AAA Nickel-Hydrogen Battery x 2, AAA Oxyride Battery x 2
Battery Consumption:*9
Based on CIPA Standard: Using the DB-60, approx. 360 pictures / AAA Alkaline battery usage: approx. 60 pictures*10
External Dimensions:
116.5 mm (W) x 68.0 mm (H) x 32.0 mm (D) / approx. 29,1 mm at thinnest (D) (excluding projecting parts)
Weight:
Approx. 260 g (excluding battery, SD memory card, strap), accessories approx. 47 g (battery, strap)
Water Resistance/Dust Resistance:
JIS/IEC waterproof grade 7, shooting at a water depth of approx. 1 m*11 JIS/IEC dustproof grade 6 (IP67)
Operating Temperature Range:
-10ºC to 40ºC