Canon Digital IXUS 90 IS / PowerShot SD790 IS compact digital camera review by LetsGoDigital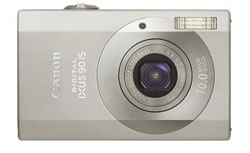 Canon Digital IXUS 90 IS
LetsGoDigital has reviewed the popular Canon Digital IXUS 90 IS (known as Canon PowerShot SD790 IS in US) compact digital camera.
Some key features for the Canon IXUS 90 IS/PowerShot SD790 IS:
-10 megapixel sensor
-3x optical zoom lens (35-105mm equivalent)
-3.0" LCD screen
-Advanced face detection
-Optical viewfinder
LetsGoDigital ends up giving the compact camera a very good review as the IXUS 90 IS is able to produce pictures of high quality and the camera body got an excellent design.
The only downside is the lack of wide angle as the lens is only 35mm at the widest part of the range.
Apart from that it seems like Canon has produced another excellent compact camera.
Read the full review of the Canon IXUS 90 IS/PowerShot SD790 IS camera here.