Nikon Coolpix S6000 ultrazoom digital camera test / review by Digital Camera Review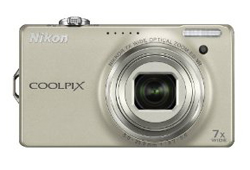 Nikon Coolpix S6000
Digital Camera Review has tested the Nikon Coolpix S6000 digital camera. This Nikon camera has 14 megapixels along with the ability to record HD movies in 720p quality.
Some key features for the Nikon Coolpix S6000:
-14 megapixel image sensor
-7x optical zoom lens (28-196mm)
-Optical image stabilization
-2.7″ LCD screen
-720p HD movie recording at 30fps
-HDMI output
Digital Camera Review ends up giving the S6000 an overall score of 4 out of 5 possible stars. On the positive side the reviewer finds the zoom range to be useful, the camera body is of good quality and Nikon is able to produce pictures with good colors. On the negative side we find aspects such as soft images, purple fringing and a bit of overexposure. The Nikon camera scores highest on performance, almost as high on image quality, video quality, ease of use and design while scoring a little lower on features. The Nikon S6000 is very good and small compact camera which should fit as a travel camera.
Read the full review of the Nikon Coolpix S6000 digital camera here.