Canon EF-S 18-135mm f3.5-5.6 IS standard kit lens test / review by Camera Labs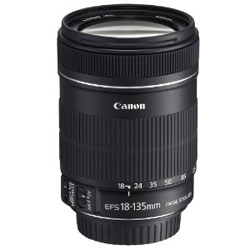 Canon EF-S 18-135mm f3.5-5.6 IS
Camera Labs has reviewed a zoom lens from Canon. This Canon lens is called Canon EF-S 18-135mm f3.5-5.6 IS and is the standard kit lens following for some of their more expensive DSLR camera bodies. The zoom range and image stabilization seems very useful so let us hear what the reviewer thinks about this lens from Canon.
Camera Labs ends up giving the Canon EF-S 18-135mm f3.5-5.6 IS a "Recommended" rating with an overall score at 76%. The Canon lens scores highest on value for your money and specifications, a little lower on build quality and lowest on optical quality. The reviewer thinks it was a smart move from Canon to move away from the EF-S 18-55mm IS kit lens and to this new lens with longer zoom range. When you look at the price tag the 18-135mm performs well and you can not expect miracles with that price tag, but there are some downsides like soft corners, vignetting and some distortion. For new DSLR photographers this should be an excellent choice.
Read the full review of the Canon EF-S 18-135mm f3.5-5.6 IS lens here.