Rollei announces Rollei Compactline 390SE digital camera celebrating 90th anniversary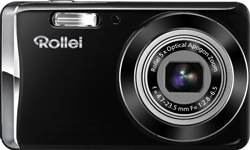 Rollei Compactline 390SE
Rollei are celebrating their 90th anniversary with a new digital camera. The Rollei camera is called Rollei Compactline 390SE and features nice features such as 14 megapixels, HD video and a wide angle zoom lens with 5x optical zoom.
Some key features for the Rollei Compactline 390SE:
-14 megapixel image sensor
-5x optical zoom lens (26-130mm)
-Optical image stabilization
-Replacement battery
-HD video with 1280×720 pixels quality at 30 frames per second
-Panoramic stitch mode
The Rollei Compactline 390SE digital camera will be released on the market in October 2010 and cost about €149.95.

Press release:
As you probably already know, Rollei is celebrating its 90th anniversary this year. It is therefore using the occasion to introduce an anniversary edition of its Compactline 390 SE. This 14-megapixel camera is equipped with a 5x optical zoom and comes with an attractive leather case, a replacement battery and a 1GB SD card. That's not the only reason to celebrate, however, as the camera also comes with a 26-mm wide-angle lens and new panorama function. Thanks to the PanCapture feature, panorama shots are now even easier to take: the correct position and order of the images are automatically captured and joined together in real-time, and the optical image stabiliser ensures that nothing is blurred. Even those moments that you would rather capture with moving pictures are not a problem. The Compactline 390 SE can record brilliantly sharp videos, thanks to an HD resolution of 1280×720 and 30 images per second
The compact camera will be introduced for the first time at this year's IFA and Photokina 2010, and will be available from specialist retailers from the end of October in stylish black or silver. The Compactline 390 SE anniversary edition will cost 149.95 Euros (RRP).