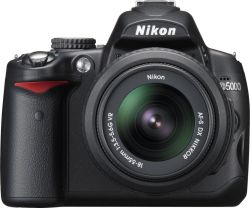 Nikon D5000
Camera Labs has made a video tour in high definition to show us different aspects to the Nikon D5000 DSLR camera. The video shows us the controls and design of the Nikon D5000 in addition to showing us how the Live View works, articulated screen, continuous shooting and HD movies in action.
Some key features for the Nikon D5000:
-12.3 megapixel sensor
-2.7″ 180 degree tilt swivel LCD screen
-720p HD movie with sound
-live view with four auto focus options
You can view the video both in high definition (HD) and lower quality here at the Camera Labs website.