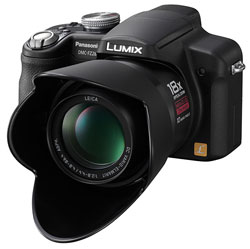 Panasonic Lumix DMC-FZ28
Panasonic has announced a new "ultra-telezoom" digital compact camera called Panasonic Lumix DMC-FZ28. The camera features a Leica DC Vario-Elmarit lens 18x (27-486mm equivalent) optical zoom lens and you can even buy a 1.7x tele converter giving you an extreme range.
An update for the Panasonic Lumix DMC-FZ28 from the older FZ18 is more megapixels from 8 to 10.1 MP. Seems like an interesting camera for people that want to photograph birds and other wildlife, and don't want to bring a heavy DSLR with a huge lens.
The Panasonic Lumix DMC-FZ28 camera will be available in August, 2008 for around £329.99/$399 in black and silver design.
Some key features for the Panasonic Lumix DMC-FZ28:
-10.1 million effective pixels CCD sensor
-18x (27-486mm equivalent) optical zoom Leica DC Vario-Elmarit lens, F2.8-4.4
-Optical image stabilization
-2.7″ LCD screen
-RAW format support
-Full manual controls



Press release:
Press release:
A Super-Versatile Digital Camera 10.1-Megapixel DMC-FZ28 with 27mm Wide-Angle and Powerful 18x Optical Zoom Lens Featuring Easy Manual Operation
Panasonic introduces the Lumix DMC-FZ28 digital still camera, featuring a 27mm wide-angle Leica DC VARIO-ELMARIT lens with an 18x optical zoom*. Joining Panasonic's popular FZ series of cameras that pack a high-powered zoom into a compact body, the FZ28 also boasts 10.1-megapixel resolution and adds a number of enhanced features that boost user fun and convenience, represented by an advanced iA (Intelligent Auto) mode.
The super-powerful 18x zoom lens makes it easy to pull in subjects from far away or to take dramatic close-ups. For an added boost, zoom power can be increased to 32.1x with the Extra Optical Zoom function**. The 27mm wide-angle feature is ideal for both broad landscapes and tight indoor shots, letting photographers capture a wider view. The 10.1-megapixel resolution allows photos to be greatly enlarged while still retaining outstanding detail, or edited by trimming and enlarging parts of the photo to print.
For image processing, the FZ28 features the high-speed, high-performance, Venus Engine IV. Thanks to the Venus IV, the FZ28 can snap off consecutive shots at a fast max.13 frames per second for subjects with fast motion in High Speed Burst Shooting mode***. In High Sensitivity mode, the FZ28 can capture stunning photos with sensitivity up to ISO 6400 in extremely low light situations****. The engine allows the FZ28 to shoot up to 460 photos (CIPA) on a single battery charge thanks to improvements in power efficiency.
Panasonic's iA (intelligent auto) mode, which makes it easy for anyone to take beautiful photos, has been further enhanced . The newly added AF Tracking function automatically tracks the subject once the AF has been set even if the subject moves around, making it easier to capture sharp, well-focused photos of decisive moments. The FZ28 continually monitors the light source and automatically activates the backlight compensation function if it detects that the light source is behind the subject. Face detection accuracy has also been increased, allowing continuous AF/AE adjustment even if a face moves or turns sideways to the camera. The Intelligent Exposure function helps capture natural-looking, true-to-life images by suppressing blocked shadows and blown highlights.
The FZ28 inherits and enhances the manual operation that has proven so popular with other members of the FZ family. The FZ28 manual controls are more versatile than in previous models and the control layout has been improved, making use of the manual controls easier and more intuitive. Also, the Advanced Scene mode, unique to Lumix high-end compact cameras for users who want more creativity, now includes a Close-up mode that lets users enjoy sophisticated close-up photography according to the subject to shoot with remarkable ease.
In addition to capturing beautiful still images, the FZ28 makes it easy to shoot high-definition 1280 x 720p motion images at 30 fps with outstanding detail. Using the DMW-HDC2 HD Component Cable (available separately), these motion images can be output from the FZ28 directly to a HD ready TV for large-screen viewing.
The FZ28 features a large, 2.7-inch Intelligent LCD with 230,000-dot resolution. Clearly visible in virtually all conditions, this advanced LCD gives the user a clear, detailed look at the shot being composed and plays back crisp, clear images after shooting. The viewfinder resolution has also been increased to 201,600 dots for easier viewing.
The FZ28 offers a number of other functions that expand photographic possibilities, including a stronger flash for long-distance lighting and extended use, a colour temperature display that makes it easier to set the white balance more accurately, a colour bracket function, and new scene modes – Pin Hole and Film Grain — that create film-camera-like effects. Image leveling and other new functions add convenience after shooting as well.
Available in black or silver*****, the DMC-FZ28 is a compact wide-angle, super-zoom camera that offers both uncommon convenience and exceptional creative freedom. Users from family members to serious amateur photographers will find the versatile FZ28 a perfect answer to their needs.
*35mm film camera equivalent: 27-486mm
**In 3-megapixel resolution mode.
***In speed priority mode, max. 13 fps in 2-megapixel (16:9) recording, 12 fps in 2.5-megapixel (3:2) recording and 11 fps in 3-megapixel (4:3) recording.
**** In 3-megapixel (4:3), 2.5-megapixel (3:2), 2-megapixel (16:9) recording.
*****Availability of models and colours may vary depending on the sales area.
1. A 27mm Wide Angle, Powerful 18x Optical Zooming Leica DC Lens* with F2.8 Brightness
The DMC-FZ28 packages a 27mm wide angle LEICA DC VARIO-ELMARIT lens with F2.8-4.4 brightness and powerful 18x optical zoom (equivalent to 27-486mm on a 35mm film camera) together with a 10.1-megapixel CCD into a compact body. The lens unit comprises of 11 elements in 8 groups, including 3 aspherical lenses and 2 ED lenses. Notably 2 ED lenses minimize the chromatic aberration that is likely to occur in telephoto images. This set of lenses secure picture quality high enough to pass Leica's stringent standards and delivers exceptional optical performance. With the long zoom range from 27mm to 486mm, equivalent to 18x, the DMC-FZ28 is perfect to take expansive scenery with dynamic perspective and a close-up of a distant subject, having an appealing angle of view. This powerful zoom also works during the motion picture recording.
Further, in 3-megapixel resolution mode, the Extra Optical Zoom function uses the centre part of the CCD to provide additional magnification, extending the zoom power to 32.1x.
*35mm film camera equivalent: 27-486mm
2. Great Photography Is Not Only for Professional Photographers Anymore — Intelligent Auto Mode
The FZ28 adds a new AF Tracking function to iA (Intelligent Auto) mode, which is a combination of functions that makes it easy for anyone to take beautiful photos. In iA mode the camera does all the work, activating Mega O.I.S. (Optical Image Stabilizer), Intelligent ISO Control, Intelligent Scene Selector, Face Detection, and Intelligent Exposure. This leaves the user free to simply compose the shot and press the shutter button, with the assurance that the image will be clear, beautiful and properly exposed.
With the new AF Tracking function, the user can "lock" the focus onto a moving subject. The camera then automatically tracks the subject as it moves, keeping it in focus without the user having to hold the shutter button halfway down. This makes it easier to capture the perfect moment clearly and in sharp focus when shooting images of a child, pet, sports or any scene with moving subjects and spur-of-the-moment action.
Featuring Intelligent Scene Selector, which automatically selects whichever of 5 scene modes — Macro, Portrait, Scenery, Night Portrait, and Night Scenery – best suits the shooting situation, the FZ28 is highly intuitive.
The Face Detection function can find up to 15 faces in the frame and adjusts the focus and exposure to capture them clearly and in sharp focus. Face detection accuracy has been increased in the FZ28 to now provide continuous adjustment of the focus and exposure even if the face is turned sideways to the camera. Combined with AF Tracking, Face Detection helps users capture special moments, including the fleeting expressions on the faces of active children. Plus, with the FZ28, the red-eye effect can be digitally corrected automatically when it occurs due to the use the flash.
Intelligent Exposure suppresses blocked shadows and blown highlights to capture images that look natural and true-to-life. It now features an automatic backlight compensation function that activates whenever the camera detects that the light source is behind the subject. This is useful when the effect of Intelligent Exposure is not enough due to the strong backlighting.
The Quick AF system allows the camera to keep focus on the subject while the camera is in recording mode even before without pressing a shutter button halfway, to get best result out of a shutter chance because the focus is always near the subject and the AF time is minimized.
In addition to the advanced functions mentioned above, the iA mode inherits fundamental functions users need in a good digital still camera. These include Mega O.I.S., which prevents blurring from hand-shake, and Intelligent ISO Control, which prevents motion blur by adjusting the ISO sensitivity if the subject moves as the shot is taken. The Mega O.I.S. conventionally has mode 1 and 2, and now it has AUTO mode to switch to the most suitable mode between the modes according to the zoom ratio being used.
The user can activate all of these useful, convenient shooting-assist functions by simply selecting iA mode. This makes the FZ28 the ultimate, super-versatile automatic camera for capturing clear, beautiful, mistake-free photos with ease.
3. Easy, Intuitive Manual Operation and Advanced Scene Mode
Packing super-powerful zoom lenses in compact bodies, Lumix FZ series cameras give users everything they need to explore the creative side of photography. FZ cameras come with a joystick that has earned high acclaim from users for allowing quick, easy adjustment of manual focus, manual exposure, and other settings. When the camera is in manual focus mode, the focal length and depth of field are displayed in accordance with the zoom range. When the camera is mounted on a tripod and the angle of view is fixed, the MF Assist function allows pinpoint confirmation of the focus area, so users can focus with high precision even when the composing of image is fixed on a tripod. The AF/AE lock button prevents any accidental changes to the focus and exposure settings, so the user doesn't have to repeat the same cumbersome trial-and-error process to recapture the previous settings. There is also a custom setting function that lets users store up to 4 sets of settings you often use in memory and instantly recall them later using the mode dial.
The Advanced Scene mode has been praised for giving users an extra degree of creative freedom when using ordinary scene modes. The FZ28 features 5 scene modes – Portrait, Sports, Scenery, Night Scenery and a new Close-up mode that provides optimal settings for shooting flowers or other small objects with fine detail. By selecting Aperture Priority in Close-up mode, the user can capture a close-up shot against a soft-focused background for an even more impressive result. With the new modes in the FZ28, the user can choose from five Portrait mode settings, four Scenery mode settings, four Sports mode settings, four Night Portrait settings, and four new Close-up mode settings. Together with the 16 ordinary scene modes, this makes a total of 37 modes the photographer can choose from to capture images exactly the way he or she sees them. Not only in normal Scene mode but also in Advanced Scene mode, the user can see the effects of the detailed settings in real-time on the LCD. This gives the user the opportunity, before taking the shot, to make whatever adjustments are necessary to capture the desired image. To help take full advantage of the wealth of settings available, the FZ28 also offers an Navigation Guide on the LCD that shows the effect of each mode or submode setting.
4. Quick and Smart AF and Easy Manual Focusing
Panasonic has dramatically revamped the focus system featured in the FZ28. The most significant improvement is the new Tracking AF. By keeping the focus locked on a moving subject such as a child or pet, this function makes it a lot easier for users to capture clear, perfectly focused shots at the perfect moment.
To match the shooting situation and subject's position, the user can select from six auto-focusing methods: AF tracking, face detection, multi, 1-point high-speed, 1-point normal-speed, and spot. With the 1-point AF or spot AF method, the auto-focusing area can be chosen freely from the entire field of view with the joystick or cursor button. Various group area patterns can also be selected in the Multi method.
The Face Detection system helps the camera to recognise a human face to capture it bright and clear. Up to 15 human faces can be detected simultaneously. The detection keeps working on the faces even if subjects are moving so that the time for AF is minimized before you click away the shutter.
Manual focusing, which is a valuable tool for professional-level photography, is also easy thanks to the previously described joystick. Instant switching between AF and MF is available with the independent AF/MF button. The DMC-FZ28 is also equipped with AF Macro button and it activates One-Shot AF function in MF mode with a single press of the button. In both AF/MF, the subject at just 1cm away can be finely captured sparing no detail of it. You can experience the dynamic close-up of macro shots.
5. High-Speed Burst Shooting
In the High-Speed Burst shooting mode, it fires off an incredible max. 13 shots per second*. Notably, the shutter mechanism of the FZ28 is mechanical, which allows users to take beautiful pictures in motion with minimal smearing and distortion effects that is often seen when using the electronic shutter mechanism. You also get unlimited consecutive shooting,** Newly added Flash Burst mode makes it possible to take continuous shooting with continuous emission of flash***. In burst shooting mode, the DMC-FZ28 can snap approx.2.5 shots per second at full resolution.****
*In speed priority mode; 13 fps in 2-megapixel (16:9) recording, 12 fps in 2.5-megapixel (3:2), 11 fps in 3-megapixel (4:3)
**The consecutive shooting speed varies with the memory card, image size, and image compression mode. The number of shots depends on the memory card size, battery life, image size and image compression mode.
***Max. 5 images. In 3-megapixel (4:3), 2.5-megapixel (3:2), 2-megapixel (16:9) recording.
****Max. 5 images in standard mode/ 3 images in fine mode.
6. High-Speed, High-Quality Image-Processing LSI Further Evolves into the Venus Engine IV
A new image-processing LSI, Venus Engine IV, features more advanced signal processing technology for rendering even higher-quality images. The parallel noise reduction in both luminance signal and chromatic signal processing systems, a technology established by the preceding Venus Engine III, gains a more sophisticated process. First, the luminance noise is two-dimensionally separated into high-frequency and low-frequency noises and only the low-frequency noise, which tends to be conspicuous, is eliminated without affecting the high-frequency noise that greatly influences resolution. Second, the information of the change point between colours is minutely stored for precise determination of edges, thus colour bleeding is dramatically suppressed. This not only produces a clearer image in high ISO sensitivity recording, but also faithfully reproduces details in low-lit areas of pictures taken at low ISO sensitivity. It supports a High Sensitivity mode that lets the DMC-FZ28 record at a setting of up to ISO 6400, sensitive enough to capture subjects in near-total darkness without using a flash.*
With its multi-task image-processing capability, the Venus Engine IV also boasts outstanding response time. Shutter release time lag is as short as approx. 0.006 second. This fast response makes it easy to capture sudden, spur-of-the-moment shots.
The Venus Engine IV also makes it possible to capture natural-looking, true-to-life images by suppressing blocked shadows and blown highlights with the Intelligent Exposure function. It now has high, standard and low settings of effect to match the shooting conditions and desired results.
Furthermore, the engine elevates the detection accuracy and corrective effect in both Mega O.I.S., which prevents hand-shake, and Intelligent ISO Control, which suppresses motion blur. This high performance engine is also superior in its energy efficiency to extend the battery life up to 460 shots(CIPA) per a single charge.
*In 3-megapixel (4:3), 2.5-megapixel (3:2), 2-megapixel (16:9) recording.
7. Exciting Options to Expand the Fun of Photography in the High-Definition Era
All Lumix cameras can take 1920×1080 pixel HD (high-definition) quality photos that perfectly fit a wide-screen (16:9) HDTV for full-screen viewing. The new DMC-FZ28 even records dynamic HD motion pictures in 1280 x 720p at a smooth 30 fps, in addition to WVGA (848 x 480) and normal VGA (640 x 480)***.
With newly added HD component output capability, you can enjoy watching still and motion pictures in stunning HD quality taken by your DMC-FZ28 by simply connecting the camera to a HD ready TV via an optional component cable (DMW-HDC2).
The DMC-FZ28 provides slideshows complete with music. Just select the pictures you want to show and choose the mood that best matches your selection from natural, slow, urban or swing, and you'll get an emotion-filled slideshow with a variety of slide change effects and matching music without any annoying adjustments. If you make the slideshow with HD photos in 1920 x 1080 pixels, you can also enjoy watching an impressive HD slideshow with music on a large-screen HDTV by using the optional component cable.
*In Motion Picture mode, the length of recording time depends on the capacity of the SDHC/SD Memory Card. (Up to the equivalent of 2 GB per motion-image recording.) When you set the motion picture quality to HD, WVGA and VGA, we recommend using a high-speed memory card with "10MB/s" or greater on the package. Some lens movement sounds may be recorded.
**For Europe, motion images can be recorded continuously for up to 15 minutes.
8. Advanced 2.7-inch Intelligent LCD and Higher Resolution EVF
Clear, easy-to-see LCD is upgraded both in size and resolution to be 2.7-inch with 230,000-dot high resolution to offer even more comfortable view for both monitoring when shooting and for playing back the results. The Intelligent LCD function detects the light condition and automatically boosts the LCD backlighting by max. 40% when shooting outdoors in bright sunshine, and adjusts the frame rate when shooting in low-lit situations in addition to using the pixel mixed readout method to secure clarity in such situations. Detecting the lighting condition precisely and automatically controlling the brightness with a total of 11 fine steps, this function gives the display the most appropriate clarity in any situation without using extra energy.
The High Angle mode makes the LCD screen extremely easy to view when the camera is held high, such as when shooting over a crowd.
The in-line Electric Viewfinder increased its resolution from the predecessor up to 201,600-dot equivalent to provide easy, corner-to-corner focusing confirmation even in manual focus mode.
9. Other Features and Functions
The FZ28 is a versatile compact camera equipped with a wide-angle lens, powerful optical zoom, and a host of enhanced features that make shooting more fun.
SILKYPIX Developer Studio 3.0SE software application comes bundled with the DMC-FZ28 for editing and developing images in the RAW file format. Using this software, you can freely adjust RAW data settings such as exposure bias and white balance even after shooting for greater enjoyment of digital photography.
The flash is more powerful than before and reaches a distance of 8.5 meters at the wide setting and 5.4 meters at the telephoto setting (ISO AUTO). It also has 1st curtain and 2nd curtain synchro settings.
A new colour bracketing function records three types of images – colour, monochromatic and sepia – at a single press of a button. Using this function, the photographer can capture a colour photo and artistic monochrome photo at the same time while pressing the shutter button just once.
For setting the white balance, the FZ28 newly provides a setting by the colour temperature in addition to the Two-Axis white balance adjustment to offer more precise control over the WB.
The FZ28 offers a total of 16 normal scene modes and 5 advanced scene modes, including the new Pin Hole and Film Grain modes that add unique, film-camera-like effects and ambiences to images. This wide range of modes lets the FZ28 respond easily to any shooting situation. The actual effects of the scene modes can be viewed on the LCD before taking the shot.
Image Leveling is another function that improves post-shooting convenience. When a recorded image "leans" to the right or left because the camera was held at a slight angle, the Image Leveling function rotates the image to straighten it and crops the unnecessary edges*.
The USB port supports the 2.0 HS standard and the internal memory has been increased to approx. 50 MB – two further enhancements that add to the convenience and fun of using the FZ28.
*Resolution decreases.
10. More Fun with Optional Accessories
The DMC-FZ28 offers a wide line of optional accessories to expand shooting possibilities. A tele-conversion lens with 1.7x power (equivalent to 826.2mm on a 35mm film camera) and a close-up lens can be mounted using a lens adaptor. An ND filter and new PL filter are also available to provide the FZ28 with true high-end camera capabilities.
DMW-LT55 Tele conversion lens*
DMW-LC55 Close-up lens*
DMW-LND46 ND filter
DMW-LMC46 MC protector
DMW-LPL46 PL Filter
DMW-LA3 Lens adaptor
DMW-AC7 AC adaptor
CGR-S006 Battery pack
DMW-CZS7 Soft case
DMW-CZ18 Camera Bag
DMW-HDC2 HD Component Cable
*Requires Lens Adaptor (DMW-LA3) for attachment
Drawing on its vast expertise in consumer electronics, Panasonic is committed to creating a new photographic culture by introducing innovative, high-performance cameras and other advanced digital imaging products.