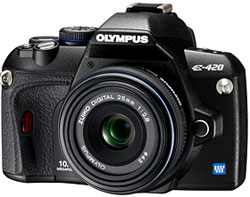 Olympus E-420 DSLR
DIWA Labs has tested 3 new Olympus cameras; the new compact DSLR E-420, the superzoom compact camera SP-570UZ with a staggering 20x optical zoom and the compact µ 1020 (known as Stylus 1020 in USA) that have 7x optical zoom.
Read the full tests of the Olympus E-420 DSLR, SP-570UZ and µ 1020 here.
The tests done by DIWA Labs are very technical so you need to read their test guide to understand the test results.