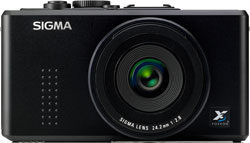 Sigma DP2
Photography Blog has reviewed the Foveon camera Sigma DP2.
Some key features for the Sigma DP2:
-14 megapixel Foveon sensor
-2.5″ LCD screen
-41mm f/2.8 lens
-ISO sensitivity from 50 to 1600
-weight 260 grams
Photography Blog ends up giving the Sigma DP2 a "Recommended" rating as the camera is able to take pictures of very good quality. The DP2 also scores high on design and ease of use, but it does not get the highest score because there are other cameras out there that give the Sigma DP2 a lot of competition. Examples of these cameras are the Micro Four Thirds cameras from Panasonic and Olympus.
Kudos to Sigma for taking a chance and producing a compact camera where image quality is in focus.
Read the full review of the Sigma DP2 camera here.