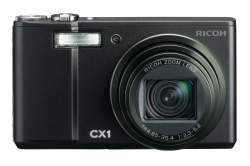 Ricoh CX1
Digital Camera Resource Page has reviewed the Ricoh CX1 digital camera. This compact camera has a lot of features like the dynamic range double shot mode so it will be interesting to see how the pictures turns out.
Some key features for the Ricoh CX1:
-Dynamic range double shot mode
-9 megapixel sensor
-3″ LCD screen
-7.1x optical zoom lens (28-200 mm)
-4 frames per second continuous shooting
Digital Camera Resource Page ends up giving the Ricoh CX1 a not so good review as the picture quality is not the best. There are many neat features in the camera, but there are a few drawbacks like heavy noise reduction that removes the details in pictures, even at low ISO levels. There is also a problem with red eyes and the flash could be stronger.
Read the full review of the Ricoh CX1 camera here.