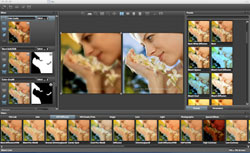 Dfx v2 Digital Filter Software
Tiffen has announced a new version of their digital filter software Dfx. The new version have plug-in support for both Adobe Photoshop and Apple Aperture instead of just a standalone application like the previous version was.
Tiffen has also added more than 1000 new digital filters and effects that should make post processing of your pictures more interesting and it might be a good alternative to optical filters.
The Dfx v2 Digital Filter Software is available as download at tiffen.com as a free trial. If you want to purchase the software it costs $99.

Press release:
LAS VEGAS, NV, DEC. 30, 2008 — Based on the success of its original award-winning Dfx Digital Filter software that revolutionized the digital filter market, Tiffen has introduced Dfx v2 at the Winter CES show. The new version now features multiple masking and layering capabilities with its Photoshop and Aperture plug-ins, previously only offered with the Stand-alone edition, plus more than 1,000 new filters and effects including: Ambient Light, Close Up Lens, Dot, Eye Light, Flag, Gobo, HFX® Star, Haze, High Contrast, Ice Halos, Rainbows, Sepia, Sky, Soft Contrast, Soft Light, Warm Center Spot, Warm Polarizer, Water Droplets, Wide Angle Lens and 812® Warming.
Professionals and enthusiasts alike can now choose from a palette of more than 2,000 standard, exclusive and special effect filters that simulate Tiffen's award-winning optical equivalents. These can all be quickly and easily customized, then saved to a filter library for later use.
An exclusive new feature with Tiffen Dfx v2 plug-ins for Photoshop/Elements and Aperture owners is multiple masking and multiple layering capabilities without having to exit the plug-in each time.
This revolutionary new feature, speeds workflow and extends the already incredible capabilities inherent with Dfx Digital Filter software.
Unlike other software that professes to offer you selection technology that is precise, our exclusive EZ Mask, one of seven mask types, allows users to create precise multiple masks with just a few quick strokes.
And, with our multiple layering, users can quickly and simply add multiple filters on a single Photoshop layer. In addition, filters and masks can be easily copied and moved between Dfx layers.
Creative control no one else can even come close to, and there's still more!
Tiffen Dfx v2 now includes foreign language support for French, Spanish, German and Japanese in the Adobe Photoshop, Apple Aperture and Stand-alone editions.
Tiffen Dfx v2 is available as a Stand-alone application for still images, specific plug-ins for Adobe Photoshop, Elements and CS4, Apple Aperture and the most popular video post-production host software, such as Apple Final Cut Pro, and Express, Adobe After Effects and Avid Editing Systems. Tiffen Dfx v2 is available for Windows XP and Vista and Macintosh systems v10.4 or higher and its new comprehensive Stand-alone edition has a suggested retail price of $99.95.
All Tiffen Dfx v2 software is available as a free trial download from the Tiffen website at www.tiffen.com.
Current owners of original Dfx editions will be able to upgrade to the corresponding Dfx v2 edition and should visit the Tiffen website for complete details.