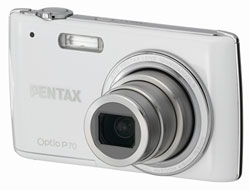 Pentax Optio P70
Digital Camera Review has reviewed the Pentax Optio P70 compact camera. This Pentax camera features a 12 megapixel sensor in a small and light body.
Some key features for the Pentax Optio P70:
-12 megapixel sensor
-4x optical zoom starting at 28mm
-shake reduction
-2.7 LCD screen
-ISO sensitivity up to 6400
-HD video recording
Digital Camera Review ends up giving the Pentax Optio P70 a pretty good review as the camera is able to produce pictures of good quality. The lens quality is high and the camera is good at getting the right exposure.
The only downside is no "true" image stabilization.
Read the full review of the Pentax Optio P70 camera here.