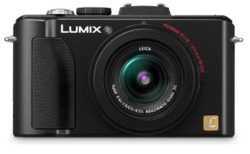 Panasonic LX5
CNET UK was extremely early this time with reviewing new cameras from Panasonic. They have reviewed the highly anticipated Panasonic LX5 high end digital camera. This super compact camera comes with a large 10 megapixel sensor and an extended zoom range compared to the Panasonic LX3. Let us hope that CNET UK is thorough in their review.
Some key features for the Panasonic LX5:
-10.1 megapixel large image sensor
-3.8x optical zoom lens (24-90mm, F2.0-3.3)
-Optical image stabilization
-3″ LCD screen
-720p HD video
CNET UK ends up actually giving the Panasonic LX5 a lower score than I expected with 3.5 stars out of 5 possible. The reviewer finds the LX5 to be a very good camera, but thinks that Panasonic wants to put the LX5 apart from their Micro Four Thirds range and this makes the LX5 suffer from a lack of features. On the positive side the reviewer likes the bright lens, the body design and new jog wheel, but they do not like the plasticky feel and that you can not adjust the flash. In my opinion I would wait for more reviews if you are sitting on the fence about buying the LX5.
Read the full review of the Panasonic LX5 digital camera here.