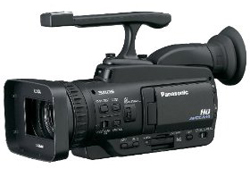 Panasonic AG-HMC40
Camcorder Info has reviewed the Panasonic AG-HMC40 professional AVCHD camcorder. This expensive camcorder from Panasonic features 12x optical zoom and is able to take still photographs at 10.6 megapixels.
Some key features for the Panasonic AG-HMC40 camcorder:
-Records HD movies up to 1080/60i resolution
-2.7″ touchscreen display
-Professional AVCHD camcorder
-Records to SD/SDHC memory cards
-12x optical zoom lens
-Still photos up to 10.6 megapixels
Camcorder Info ends up giving the Panasonic AG-HMC40 a pretty average review as it seems like it is a beefed up version of the much cheaper Panasonic HDC-TM300, but costs $1000 more and there aren't that many features that justifies the high price tag. There are some positive points to the Panasonic AG-HMC40 like the compact size for a professional camcorder and low price compared to other professional camcorders, but there might be other camcorders out there that better suit your needs.
Read the full review of the Panasonic AG-HMC40 camcorder here.