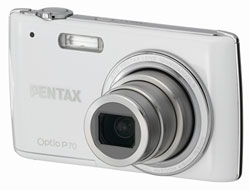 Pentax Optio P70
Pentax has launched a new ultra-thin digital camera called Pentax Optio P70 that looks very nice. The camera will be sold for about £149.
Some key features for the Pentax Optio P70:
-12 megapixel sensor
-4x optical zoom starting at 28mm
-Image stabilization
-2.7 LCD screen
-ISO sensitivity up to 6400
-HD video recording

Press Release:
PENTAX announces the new high-performance Optio P70 digital compact camera
January 2009: Pentax U.K. is pleased to announce the launch of the PENTAX Optio P70. With a stylish and ultra-thin body, this new high-performance model features a host of advanced functions that make impressive digital photography both effortless and enjoyable.
The Optio P70 packages outstanding core features, such as a 4X optical zoom, approximately 12 effective megapixels for incredible high-resolution images, and a large, easy-to-view 2.7-inch colour LCD monitor, all in a high-quality metallic shell. Even with this robust feature set, the Optio P70 has been designed to be extremely compact, with a body as thin as 16.5 millimetres in some sections.
This new digital compact camera also offers a variety of user-friendly features, including Vertical Snap to facilitate vertical-position shooting; a Smile Capture function to automatically release the shutter when it detects a subject's smile; and an Auto Picture mode to automatically select one of eight shooting modes for a given subject. The Optio P70 is further enhanced by triple anti-shake protection using Pentax exclusive in-camera software, High-Sensitivity Shake Reduction, and Movie Shake Reduction modes.
Taken together, these features produce high-quality digital photography with simple, effortless operation under any circumstance every time. The Optio P70 also offers a choice of five fun colours to suit the user's preference.
Main Features of the PENTAX Optio P70
1. High image quality
The Optio P70 is designed for the highest level of performance and image quality in its class, thanks to the combination of approximately 12 effective megapixels producing incredible high-resolution images, a high-performance imaging engine for true-to-life colour reproduction, and a renowned smc PENTAX lens. It even records movie clips at 1280 x 720 pixels, producing beautiful movies equivalent in quality to those of high-definition broadcast.
2. Advanced 4X Optical zoom lens with wide-angle coverage
The Optio P70 uses an impressive 4X optical zoom lens covering a focal length from 4.9mm to 19.6mm (equivalent to approx. 27.5mm to 110mm in 35mm format). This covers a wide range of subjects and scenes, from wide-angle images of scenery, architecture, or group shots taken in close quarters, to telephoto images depicting detailed subjects at great distance. For higher-magnification photography, it is equipped with an Intelligent Zoom function. When combined with the optical zoom lens, this function extends the zoom range to approximately 25X without compromising the optical performance of the lens.
3. Triple anti-shake protection to prevent different types of camera shake
* Pixel Track SR mode
When recording still images, the Optio E70's new Pixel Track SR (Shake Reduction) mode effectively compensates for camera shake by processing affected images with exclusive software.
* High-Sensitivity SR mode**
When it detects low-lighting conditions in still-image shooting, the Optio E70 automatically raises its sensitivity as high as ISO 6400 to set a higher shutter speed. This effectively minimizes the adverse effects of camera shake and subject shake.
* Movie SR mode***
During movie shooting, the Optio E70 prevents blurry images by effectively minimizing annoying camera shake using exclusive software.
4. Vertical Snap mode for easy vertical-position shooting
The Optio P70's unique Vertical Snap mode simplifies vertical-position shooting, as it allows the photographer to turn the power on and off and zoom the lens in and out with simple pushbutton operation on the back panel. In addition, all icons on the LCD monitor are automatically rotated for vertical-position viewing. This new mode provides the user with the same ease of operation as a mobile phone.
5. Compact, ultra-slim body
The compact design of the Optio P70 was achieved using new PENTAX advanced technology, including the newly developed "Sliding Lens System."* Size and weight were further saved by downsizing all parts, and using space-efficient high-density mounting technology.
6. Stylish design with a high-grade finish
Both sides of the Optio P70 are gently rounded to provide the user with the most comfortable holding position possible, which also gives the camera an elegant shape that attracts the eye. Exterior blemishes have further been reduced by integrating the strap lug into the body. For a high-grade finish, meticulous attention is paid to every detail of the camera body, from the elegant, aluminium housing to chrome-coated parts that are gently contoured to radiate shine from every viewing angle. Additionally, to create a distinctive finishing touch, the silver model has a fine-textured sand finish, while colour models have a double-coating finish with a clear overcoat applied to primary colour paint.
7. Auto Picture mode for automatic selection from eight different shooting modes
The Optio P70 features the advanced Auto Picture mode, which automatically selects the most appropriate shooting mode for a given subject or scene by detecting the subject's lighting and other conditions. This user-friendly mode not only makes the right mode choice for the photographer (from Landscape, Portrait, Night Scene, Night Scene Portrait, Flower, Sport, Standard and Candlelight modes), but also features an auto macro mode, which automatically switches the camera's focus range to macro for close-up applications.
8. Super-fast Face Recognition AF & AE function to capture the subject's face in focus in approximately 0.03 seconds
The Optio P70 features the Face Recognition AF & AE function, which is extremely handy for taking casual snapshots of friends and family. It optimises the focusing and exposure of the subject, up to 32 faces in a single image, in as little as 0.03 seconds. The Optio P70 offers other user-friendly functions as well: a Smile Capture function automatically releases the shutter the instant it detects the subject's smile; and a Blinking Detection function warns the photographer when the subject's eyes close at the time of shutter release.
9. Large, easy-to-view 2.7-inch colour LCD monitor
Despite its compact dimensions, the Optio P70 features a huge 2.7-inch high-brightness colour LCD monitor. Its bright screen not only makes image viewing easy while shooting and during playback, but also facilitates easier menu reading and mode setting.
10. Other features
* Digital Wide function to create an extra-wide-angle image (equivalent to an image taken with an approx. 21mm lens in 35mm format) from two images
* Digital Panorama mode to compose a single panoramic picture from as many as three images
* 26-mode shooting mode palette for easy selection of the most appropriate mode, including the Party mode, for any given subject or scene
* Favourites function to save reduced-size files of favourites images in the camera and recall them at will
* Image recovery function to retrieve accidentally erased images
* Frame Composite function (with 90 frames stored in the camera) to shoot or compose images with decorative photo frames
* Approximately 33.7MB built-in memory
* Red-eye reduction function to correct red eyes in recorded images during playback
* ACDSee for PENTAX 3.0 image viewing, editing and filing software included, support for Windows VistaTM
* Compatibility with PictBridge、DPOF functions、Exif Print, and PRINT Image Matching III