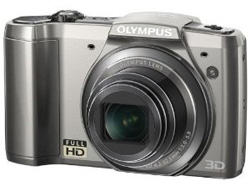 Olympus SZ-20
Photography Blog has reviewed a new slim travel camera from Olympus. The digital camera is called Olympus SZ-20 and has nice features such as 16 megapixels, 3D photo shooting and it is able to record full HD movies.
Some key features for the Olympus SZ-20:
-16 megapixel backlit image sensor
-12.5x optical zoom lens (24-300mm)
-3″ LCD screen
-3D photo shooting mode
-9 fps full-resolution continuous shooting
-Eight Magic Filters
-Full 1080p HD movies
Photography Blog ends up giving the SZ-20 an "Above Average" rating with an overall score of 3.5 stars out of 5 possible. The Olympus camera score highest on value for your money, a little lower on features and design, while it scores lowest on image quality and ease of use. The camera has many nice features and a low price tag that is hard to beat, but the controls could be better and the image quality is bit lacking in some areas.
Read the full review of the Olympus SZ-20 super-slim travel-zoom compact camera here.