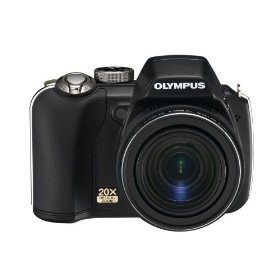 Olympus SP-565 UZ
DxOMark has released Raw data analyses for the Olympus SP-565 UZ camera. This Olympus camera has a very long zoom (20x) and a 10 megapixel image sensor.
Some key features for the Olympus SP-565 UZ:
-20x optical zoom lens (26-520mm, f/2.8-4.5)
-10 megapixel sensor (1/2.33″ CCD)
-2.5″ LCD screen
-image stabilization
-33 shooting modes including manual controls
Read all the Raw data analyzes Olympus SP-565 UZ camera here.

Press release:
dxomark.com Publishes RAW Sensor Performance Data On A Set Of High-End Bridge Cameras
DxO Labs adds detailed measurements for the Fujifilm FinePix S100fs, the Olympus SP-565 UZ and the Panasonic Lumix DMC FX150 to its RAW-based Image Quality Database
Paris, France – April 15, 2009 –DxO Labs announces today the addition of RAW-based image quality data and DxOMark Sensor rankings on its popular www.dxomark.com website for the Fujifilm FinePix S100fs, the Panasonic Lumix DMC FX150 and the Olympus SP 565 UZ.
The Fujifilm FinePix S100fs takes the lead of the set of bridge models that are currently analyzed and published on dxomark.com.
Visitors to the dxomark.com website will also find a newly-published review of the Olympus SP-565 UZ which details findings about the camera's internal RAW processing implementation.
About dxomark.com
Sponsored by DxO Labs, a company focusing on image processing technologies, www.dxomark.com is a free online resource that delivers key objective sensor performance metrics measured directly on the RAW image for a variety of cameras. As a result, dxomark.com makes it possible for the first time to assess the intrinsic quality of a camera before the impact of any RAW conversion and independent of its optics.
The site also features a simple scale, DxOMark Sensor, for analyzing and comparing RAW image quality. The DxOMark Sensor scale is mapped to real-world photographic scenarios such as portrait, landscape, and action photography, ensuring that the scale is relevant to photographers.
dxomark.com's goal is to serve the imaging community, particularly the photo press. Photography journalists and experts can now complement their analyses and reviews with an objective evaluation of intrinsic camera performance, regardless of optics or processing considerations.
For more information, visit www.dxomark.com.
About DxO Labs
DDxO Labs offers products and solutions ensuring excellence in digital imaging. The company develops and licenses patented intellectual property serving the entire digital imaging chain:
For consumer electronics OEM/ODM (such as digital camera and camera phone vendors): embedded software and silicon architectures for real time still and video image processing;
For imaging component suppliers (camera module manufacturers, sensor vendors, and processor vendors) as well as photography journalists and imaging experts: image quality evaluation and measurement tools;
For serious and demanding photographers: PC and Mac solutions to enhance camera image quality.
For more information, visit the DxO Labs website at www.dxo.com