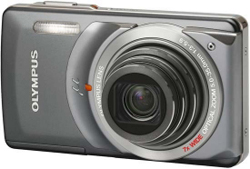 Olympus Mju 7010
Photography Blog has reviewed the Olympus Mju 7010 (also known as Olympus Stylus 7010 in some markets) compact digital camera. This camera feature 12 megapixels and a nice 7x optical zoom lens, but can Olympus deliver good image quality?
Some key features for the Olympus Mju 7010:
-12 megapixel image sensor
-7x optical zoom lens (28-196mm)
-2.7″ LCD screen
-Dual image stabilization
-Magic filters
-support xD and mircoSD memory cards
Photography Blog ends up giving the Olympus Mju 7010 / Stylus 7010 digital camera a 3 out of 5 star "Average" rating. It seems like other camera makers like Canon, Sony and Panasonic are able to make better compact cameras in this class. The Mju 7010 does not have the best results over ISO 400 and the image quality could be better over all. The reviewer likes some of the features of the camera like the responsiveness and intuitive menu system.
Read the full review of the Olympus Mju 7010 camera here.