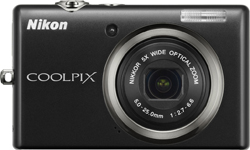 Nikon Coolpix S570
CNET UK has reviewed the Nikon Coolpix S570 compact digital camera. This Nikon camera feature 12 megapixels and 5x optical zoom along with 47MB of internal memory.
Some key features for the Nikon Coolpix S570:
-12 megapixel image sensor
-5x optical zoom lens (28-140mm)
-digital image stabilization
-2.7″ LCD screen
-47MB built-in memory
CNET UK gives the Nikon Coolpix S570 a 7.2 out of 10 score. The camera seems to be performing average in its class and it is able to produce pictures of decent quality. The S570 produces very good pictures at low ISO values, but at the highest ISO values the Coolpix is almost useless. Overall the Nikon Coolpix S570 seems like a nice camera that stands out positve compared to other cameras in the same class.
Read the full review of the Nikon Coolpix S570 camera here.