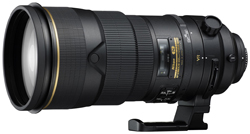 Nikon AF-S NIKKOR 300mm f/2.8G ED VR II
Nikon has announced a new high end prime lens with a pretty extreme focal length at 300mm. This telephoto lens from Nikon is fast with its f/2.8 and it has the new Vibration Reduction technology. The lens also has a new focus mode, weatherproof sealing and focus limit switcher.
The Nikon AF-S NIKKOR 300mm f/2.8G ED VR II lens will be available in January 2010 and cost about $5900 so you need a big budget to be able to purchase this lens.

Press release:
Nikon Introduces the AF-S NIKKOR 300mm f/2.8G ED VR II
Raising the bar for hand held telephoto photography
Amsterdam, The Netherlands, December 10, 2009 – Nikon Europe today announces a new super telephoto lens to replace the AF-S VR NIKKOR 300mm f/2.8G IF-ED. The AF-S NIKKOR 300mm f/2.8G ED VR II features the new generation of Vibration Reduction technology (VR II) and a new A/M focus mode, making it an ideal choice for sports, action and wildlife photographers. This lens is designed for those who are serious about photography.
Zurab Kiknadze, Product Manager Lenses, Accessories & Software, Nikon Europe says: "The AF-S NIKKOR 300mm f/2.8G ED VR II comparatively light weight and compact dimensions make it a perfect choice for hand held super telephoto photography, particularly when used with a teleconverter. The new VRII system offers four or more stops of compensation, and makes this a really practical solution for the news and wildlife photographer". The evolution of the NIKKOR lens reflects a commitment to developing a range of products tailored to photographers' needs, and it strengthens the line-up of high-performance NIKKOR lenses.
Sharper action images
The AF-S NIKKOR 300mm f/2.8G ED VR II features the second generation built in Vibration Reduction (VRII), providing the ability to shoot at shutter speeds up to four stops slower so sharper images can be achieved when using the camera for hand-held shooting. In addition, the new A/M mode added to existing M/A and M modes enables autofocus priority even if the focus ring is being handled during shooting. Weighing in at 2,900g this is a lens that ticks every box for those who are serious about action photography.
Built for any environment
This super telephoto lens is designed with the photographer in mind and has the same excellent optical system as its predecessor. Those who need extreme speed and quiet to capture wildlife, can rely on the autofocus with a built-in silent wave motor to ensure you won't disrupt the action. To top off the extensive features,, this lens is also sealed to withstand the affects of dust and moisture, allowing photographers to keep shooting whatever the conditions. Finally, the lens construction features eleven elements in eight groups, including three ED glass elements and Nano Crystal Coat.
Specifications
Focal length 300mm
Max/min aperture Min f/22 Max f/2.8
Lens construction 11 elements in 8 groups
Picture angle 8◦10'
No. diaphragm blades 9 (rounded)
Closest focusing distance 2.3m/7.5ft. (AF); 2.2m/7.2ft. (MF)
Filter/attachment size 52mm
Diameter x length Approx. 124 x 267.5 mm/ 4.9 x 10.5 in.
Weight 2,900g