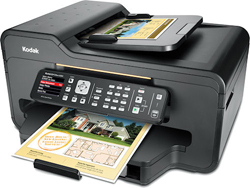 Kodak ESP Office 6150
Kodak has announced a new All-in-One printer called Kodak ESP Office 6150. This new printer has wireless connectivity and print speeds up to 32 pages per minute.
Some key features for the Kodak ESP Office 6150:
-Able to print, copy, scan and fax
-Wireless connectivity
-Print speeds up to 32 ppm in black and 30 ppm in color
-Copy speeds up to 27cpm in black and 26 cpm in color
-Paper tray that holds 200 sheets
The Kodak ESP Office 6150 All-in-One printer will be available on the marked in April 2010 and cost about $230.

Press release:
Kodak Expands its Innovative All-in-One Printer Portfolio within the Home Office Market
Unique Inkjet Printing System Helps Home Office Owners Expand Their Home Business Printing Capabilities For Less
Rochester, NY, January 6, 2010 — Eastman Kodak Company (NYSE:EK) today announced an extension of its innovative All-in-One (AiO) Inkjet Printer portfolio for the Home Office business market with the launch of the KODAK ESP Office 6150 AiO Printer. This new Kodak Printer offers home businesses improved productivity with four-in-one flexibility and premium-quality printing with the lowest total ink replacement cost in the industry1. The ESP Office 6150 saves consumers on average $110 per year on ink based on as few as four pages per day2, delivering the quality their business deserves without straining their bottom line.
With the new ESP 6150, the home-based business owner will benefit from the features and capabilities that enable more productivity, as well as, Kodak's unique business model, which offers high-quality, affordable inks. The ESP Office 6150 is designed to complement a mobile lifestyle with the latest Wi-Fi technology and Ethernet connectivity that enables printing from multiple sources. It also features extremely simplified Wi-Fi set up to effortlessly connect to wireless networks in the home office. Kodak is also the world's first direct WiFi printing solution for BLACKBERRY Smartphones, so now, home office users may print documents and photos from a WiFi enabled BLACKBERRY Smartphone. Consumers can also print photos from an iPhone and iPod Touch with the new Kodak Pic Flick application.3
"Home office owners are passionate about their business. By providing a system that delivers premium-quality prints for documents and photos, productivity features to improve efficiency, and ink savings to meet the challenges of their business, Kodak is helping home office business owners focus on driving their bottom line", said Susan Tousi, General Manager, Inkjet Systems, Vice President, Eastman Kodak. "Kodak believes home business owners should invest in their business, not their printer ink."
Saving money on ink doesn't mean compromising on quality. Kodak AiO Printers use proprietary nano-particulate pigment inks instead of dye-based ink to provide premium quality and industry-leading image stability. This means home business owners can print crisp text documents, brilliant graphics and Kodak Lab Quality photos4 that will last a lifetime.5 Kodak prints also dry instantly, so documents and photos are ready to be shared right away.
The KODAK ESP Office 6150 advanced feature set includes:
* Four-in-One system with print, copy, scan and fax capabilities;
* Latest Wi-Fi technology and extremely easy wireless set-up;
* Intuitive control panel provides quick and easy access to the tasks used most;
* Print documents up to 32/30 ppm in black/color6;
* Copy documents up to 27/26 cpm in black/color;
* High-capacity paper tray – holds up to 200 pages;
* Efficient two-sided printing for paper and time savings;
* Scan multiple pictures simultaneously up to 1200 DPI – software creates separate files automatically;
* Fast, efficient faxing at 33.6 kbps with 30-page document feeder.
In addition to the launch of the ESP Office 6150, Kodak also announced an enhanced ink replacement offering which provides greater convenience for consumers who print more frequently. Kodak's new ink replacement offerings include a new Kodak Black Ink Cartridge 10XL and improved Kodak Color Ink Cartridge 10C to enable consumers to print more with added convenience and less trips to the store for replacement ink cartridges.
Available in April 2010, the KODAK ESP Office 6150 retails for $229.99 U.S.MSRP. Learn more about Kodak's inkjet portfolio and see how much you're overpaying for ink at www.printandprosper.com
About Kodak
As the world's foremost imaging innovator, Kodak helps consumers, businesses, and creative professionals unleash the power of pictures and printing to enrich their lives.
To learn more, visit the newly redesigned http://www.kodak.com and follow our blogs and more at http://www.kodak.com/go/followus .
More than 75 million people worldwide manage, share and create photo gifts online at KODAK Gallery –join for free today at www.kodakgallery.com