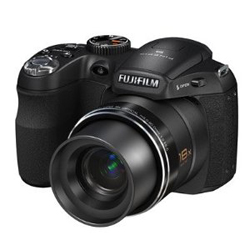 Fujifilm FinePix S2500HD
Photography Blog has tested the Fujifilm FinePix S2500HD digital camera. This superzoom camera from Fujifilm comes with 18x zoom lens and is one of the cheapest superzoom cameras on the market.
Some key features for the Fujifilm FinePix S2500HD:
-12 megapixel image sensor
-18x optical zoom lens (28-504mm)
-Dual image stabilization
-3″ LCD screen
-High-definition 720p video recording at 30fps
-HDMI port
-Uses SD/SDHC memory cards
Photography Blog ends up giving the Fujifilm FinePix S2500HD a "Recommended" rating with an overall score of 4 out of 5 stars. The S2500HD scores highest on features and value for your money while scoring a little lower on image quality, design and ease of use. If you are on a budget and want a superzoom the Fujifilm FinePix S2500HD seems like a choice that you really should consider if you can live with the minor shortcomings.
Read the full review of the Fujifilm FinePix S2500HD digital camera here.