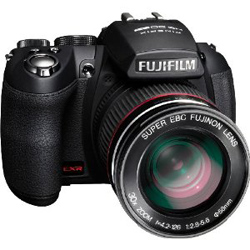 Fujifilm FinePix HS20 EXR
Photography Blog has reviewed a compact camera with some very impressive specifications. The camera is called Fujifilm FinePix HS20 EXR and has a zoom range that ranges from 24mm to an astonishing 720 making the lens 30x optical zoom. The Fujifilm camera comes with a 16 megapixel sensor and is able to record full HD movies with stereo sound. The specifications are impressive, but is the camera able to perform?
Some key features for the Fujifilm FinePix HS20 EXR:
-30x optical zoom lens (24-720mm)
-16 megapixel image sensor
-3″ LCD screen
-Full 1080p HD movie recording
-ISO sensitivity 100-12800
-Supports RAW-format
Photography Blog ends up giving the FinePix HS20 EXR a "Recommended" rating with an overall score of 4 out of 5 possible stars. The compact camera scores highest on features where it gets a perfect score, almost as high on design and ease of use, while it scores lowest on value for your money and image quality. The HS20 is a good camera with many useful features, but it seems like Fujifilm have crammed too many megapixels into the image sensor as ISO noise comes visible even at low levels. If you mostly photograph at ISO 100 this should not be a problem, but let us hope they work more on image quality with their next camera in this line.
Read the full review of the Fujifilm FinePix HS20 EXR digital camera with 30x optical zoom here.