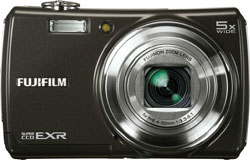 Fujifilm FinePix F200EXR
Lets Go Digital has reviewed the Fujifilm FinePix F200EXR compact digital camera. The Fujifilm camera is the first camera with the new Super CCD EXR image sensor. Supposedly this sensor gives you more dynamic range, less ISO noise and better resolution so it will be interesting to see if the image sensor is able to live up the hype.
Some key features for the Fujifilm FinePix F200EXR:
-12 megapixel Super CCD EXR image sensor
-5x optical zoom lens (28-140mm)
-Image stabilization
-3″ LCD screen
-Manual controls
Lets Go Digital ends up giving the Fujifilm FinePix F200EXR a "80% Recommended" rating. The digital camera from Fujifilm is able to take pictures of high quality, but the reviewing website is not certain if the new sensor helps or not.
The F200EXR does not get a top score because it does not really stand out from all the other compacts on the marked, but it is still a good digital camera that they recommend.
Read the full review of the Fujifilm FinePix F200EXR camera here.