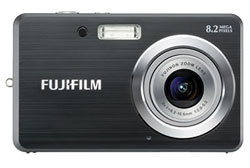 Fujifilm FinePix J10
PC Magazine has reviewed a slim compact camera from Fujifilm, the FinePix J10.
Some key features for the Fujifilm FinePix J10:
-8.2 megapixel sensor
-2.5″ LCD screen
-3x optical Fujinon zoom lens (38-113mm equivalent)
-Image stabilization
PC Magazine ends up giving the Fujifilm camera an average rating as the the FinePix J10 is a camera for beginners in the world of photography. The camera was able to take pretty good pictures when there is daylight, but is not performing very well at ISO settings over 400. There is also some barrel distortion on wide-angle shots.
Overall this seems like a very average camera with a low price tag.
Read the full review of the Fujifilm FinePix J10 here.